In Touch Daily Devotional 
by Dr. Charles Stanley
---
October 05, 2006 The Privilege Corrupted Romans 1:18-23
A person cannot deny the Lord and still live successfully. Mankind was created to acknowledge God and share a relationship with Him. When someone chooses to ignore the truth of His existence or His sovereignty, he or she begins a downward slide. It's a choice which ends with a hardened heart and eternal separation from a loving Father.
God gives everyone the capacity to understand Him and the free will to choose whether to pursue that knowledge. The truth of His existence is revealed in nature and written into every person's conscience. However, many people ignore reality because it interferes with their preferred lifestyle. Instead, they chase false philosophies, which are usually mixed with just enough truth to make them believable to the inexperienced.
Any "truth" crafted by man is foolishness. A mind that has rejected the fact of a sovereign Lord cannot see its error. It has slipped from intelligence—an inherent knowledge of God — to willful ignorance. In this state, even when all evidence points to the truth, a person can still convince him- or herself that the opposite is right.
All the denial and atheistic arguments in the world will not change what is real. Jehovah is God. Jesus Christ is His Son. God created you to love, obey, and honor Him. If you resist the truth, you choose a life of darkness and willful ignorance. The choice is yours to make.
God invites you to see if He is better than all that the world has to offer. Psalm 34:8 challenges us to "taste and see that the Lord is good." Will you taste and see?
 
FEATURED RESOURCE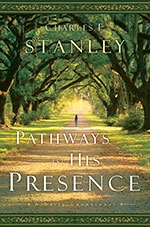 Pathways to His Presence
from Dr. Charles Stanley
Dr. Stanley's new daily devotional, Pathways to His Presence, focuses on 12 spiritual pathways each month — including forgiveness, prayer, victory, and peace — that will guide you confidently into the presence of God. As you journey along, you will join a long list of biblical heroes who chose to place their lives in the hands of God and obey His call. By doing so, they came to know the Lord more intimately and accomplish great and mighty things in His name. Spending time with the Father each day will not only provide guidance for your life, but will make you more like Him! Order here now!
FEATURED RESOURCE
How to Let God Solve Your Problems
from Dr. Charles Stanley
In How to Let God Solve Your Problems, you will discover not only how to handle adversity but how to live beyond your deepest hurts through faith and trust in the one Person who will never leave you. Order here now!
To see more resources from In Touch Ministries, please visit us at www.intouch.org  or go directly to our bookstore at In Touch Ministries.