September 1, 2008
God Rewards Obedience
Luke 5
An everyday fisherman became one of the chief builders of the early church because he was obedient. Simon Peter made a lifelong commitment to follow Jesus Christ and received many blessings as a result.
In Luke 5, Peter was weary and dismayed after an unsuccessful night at sea. Yet when Jesus asked to borrow his boat, he agreed. And when the carpenter suggested the fisherman put out nets for a catch, Peter did so against his better judgment. His obedience brought a huge financial gain. Even better, he recognized Jesus for who He was—the Lord.
Just as his nets expanded with the overflowing catch, Peter's faith also grew large that day. He was so confident of Jesus' sovereignty that he laid down the tools of his trade and became a "fisher of men" (vv. 10-11). And rewards continued to come his way: as Christ's disciple, Peter spent time with the Lord and performed miracles in His name (Acts 9:33-42).
Obedience was Peter's lifestyle—when the Lord told him to do something, he didn't delay. (Matt. 16:16) He understood who Jesus was and helped establish the church on the rock-solid foundation of Jesus' Messiahship. Peter preached at Pentecost (Acts 2:14-36), opened Christianity to Gentiles (Acts 11:1-18), and wrote two biblical epistles—all of which are additional rewards for his faithfulness.
Believers sometimes shy away from following Jesus wholeheartedly, wondering, How can He use someone so average? Peter's life proves that the Lord equips those He calls. And when an ordinary believer faithfully obeys, God rewards.
FEATURED RESOURCE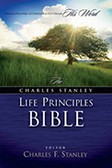 The Life Principles Bible
This Bible combines the wisdom of Scripture with the principles that guide Dr. Stanley's life and empower his ministry. Order your copy.
To see more resources from In Touch Ministries, please visit us at www.intouch.org or go directly to our bookstore at In Touch Ministries.