Sept. 29, 2009
A Good Soldier Serves
A good soldier is a servant. In addition to acting on behalf of his country in combat situations, he is called upon to aid the local populace, liberate captives, and keep peace within the ranks. He must think about more than his own skin. Likewise, a Christian soldier's job includes watching over those working alongside him.
The Christian soldier protects the unity of the church. Worship communities divide over both important and trivial issues. Sadly, most splits are ugly battles between people who ought to be fighting side-by-side against a common Enemy. Paul warns believers not to be quarrelsome. Instead we're to work out differences with kindness and show patience when wronged. Moreover, a sensitive, loving correction can often settle tempers and clean a wound torn in the church body. Then healing is possible.
The Christian soldier rescues those imprisoned by sin. A gentle correction is also useful when speaking to fellow believers ensnared by the Devil. Just as the men and women in a combat unit guard each other, we are to care for our spiritual brothers and sisters. Or as Paul explained, we "admonish the unruly, encourage the fainthearted, help the weak" (1 Thess. 5:14). Our standing orders are to reflect Jesus to the world, beginning with each other (v. 13).
While these are things believers should do for one another, a servant-soldier's top priority should be having a godly attitude. Respond to other spiritual warriors as Christ would. To keep your heart and mind right, you must be in God's Word—reading, studying, and making His principles your own.  
For more biblical teaching and resources from Dr. Charles Stanley, please visit www.intouch.org
and
click here to listen to Dr. Stanley at OnePlace.com.
FEATURED RESOURCE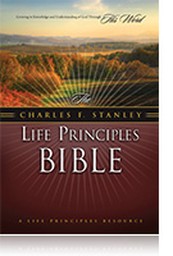 The NASB Life Principles Bible
You can now read the Scriptures in Dr. Stanley's favorite teaching translation -- the New American Standard -- while learning the 30 Life Principles that have guided him for more than 50 years. The new NASB Life Principles Bible will enhance your personal study time through explanation of key passages, plus helpful resources like "Answers to Life's Questions," concordance, maps, and much more. Available in leather and hardcover. 

Used with permission from In Touch Ministries, Inc. © 2009 All Rights Reserved.