Confession is Better
By:Rick Boxx
February 10, 2016
Kathy and I recently downsized into a smaller home. We hired a moving company we had used twice before to help move our furniture. This time our experience was disappointing.
The crew they sent were nice guys, but inexperienced. Our walls were banged up, light fixtures and staircase railings were broken, and some mirrors and pictures were shattered.
Broken items during a move is understandable, but what concerned us more was the "cover up." These young men didn't tell us about the items they had destroyed, and in one case, they even tried to cover-up the mistake. Fortunately, their managers made amends.
Proverbs 28:13 teaches, "He who conceals his transgressions will not prosper, but he who confesses and forsakes them will find compassion."
Mistakes will happen, but confession is always better than deception.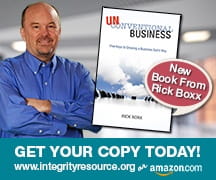 Learn more about Rick Boxx and Integrity Resource Center