Standing Firm
By: Rick Boxx
January 24, 2013
According to Religion Today, twelve nurses who worked for the University of Medicine and Dentistry of New Jersey hospital were threatened with termination if they refused to help with abortions.
Fortunately, these nurses stood firm in their faith and banded together, hiring Alliance Defending Freedom to represent them. The nurses eventually won the case, and for now their religious beliefs are safe.
It would have been easy for these nurses to buckle under the pressure to preserve their jobs, but they held firm.
In Hebrews 10:38 God said, "But my righteous onewill live by faith. And if he shrinks back, I will not be pleased with him."
As assault on our religious liberties grows, many of us may need to please God by standing firm in our faith.
Wes Cantrell's From the Shop Floor to the Top Floor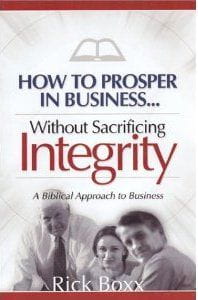 To survive long term, businesses must be profitable. You can accomplish this objective with integrity, or you can do it by whatever means you feel justifies the end, such as fraud, deceit, and ruthless business practices. Purchase here.
"How well are you modeling Faith, Integrity, Relationships, and Excellence in your work? Find out by taking Integrity Resource Center's free FIRE Assessment!"
Contact Rick Boxx at www.integritymoments.org, and to learn more about Integrity Resource Center go to integrityresource.org.