God sent forth His Son, born of a woman, born under the Law . . . (Galatians 4:4)
Redemption concludes with liberation from enslavement. Jesus came in the fullness of time, born of a woman, to redeem those who were under the law. To redeem means "to set free by paying a price." In other words, God sent Himself a ransom note. The ransom note is self-addressed, for who else is capable of paying to God what is owed but God Himself? The ransom demanded is the ransom He provided. So, to go back to the Law is to undo the very work of Christ.
---
These are stories Jesus wants you to hear!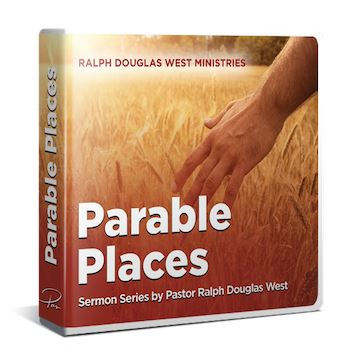 If you've ever wondered if God is really interested in you, it's time you explored Pas' 6-message series, Parable Places.
Let Pastor West take you to some special venues where you can experience Jesus' direction and life-changing love through the stories He shared. You'll be inspired to see how Christ never hurries past the needs of those He loves – and that includes you!
This 6-message series is our way of saying thanks for your gift below to share the Gospel and help more people grow in their faith.
Be encouraged – and thank you for encouraging others through your support!