I will praise the LORD with my whole heart, in the assembly of the upright and in the congregation. (Psalm 111:1)
In May 1824, after almost 12 years of obscurity, the deaf musical genius Ludwig Van Beethoven reappeared in a Vienna orchestra hall to conduct his climactic Ninth Symphony. At the end of the last movement, handkerchiefs, hats, and hands were thrown into the air as visual gestures of appreciation made for the maestro and his masterpiece. Likewise, with all of our imagination, creativity, and strength God has given to us, we should raise hands, throw hats, and lift arms in worship to the Maestro of the orchestra with harmony for all of life.
---
Be challenged by Romans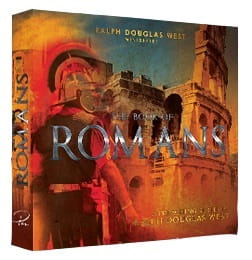 Romans doesn't let us sit still. In Romans, Paul talks about the obligation we are under to spread the truth of the Gospel and to engage with the culture around us. He talks about the journey we must make after we accept the God's gift of salvation. We are called to leave our comfortable and easy corners and spread the message of Christ's sacrifice to everyone around us, because we have been freely justified!