For thus says the Lord God of Israel: "The bin of flour shall not be used up, nor shall the jar of oil run dry, until the day the LORD sends rain on the earth."  (1 Kings 17:14)
When Elijah arrived in Zarephath, he found a widow cooking her last meal so that she and her son could eat and die. He said,  "This may sound crazy, but God sent me because there is some unexpected surplus. Feed me first, and then feed your son and yourself." After obeying him, she looked in the cupboard and found more than she had when she woke that morning. Similarly, we often don't recognize when God is supplying our need because it seems to be from a most unlikely source. 
 
---
Be challenged by Romans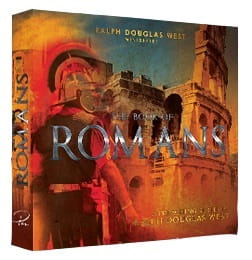 Romans doesn't let us sit still. In Romans, Paul talks about the obligation we are under to spread the truth of the Gospel and to engage with the culture around us. He talks about the journey we must make after we accept the God's gift of salvation. We are called to leave our comfortable and easy corners and spread the message of Christ's sacrifice to everyone around us, because we have been freely justified!