May 18
Broken & Spilled Out
"…He took some bread, and after a blessing He broke it; and gave it to them, and said, "Take it; this is My body."
Mark 14:22
The life of Jesus is, for us, the epitome of brokenness.  The beauty of brokenness is veiled in shame and suffering.  God breaks the life of His children in order to unearth the beauty concealed in earthen vessels.  It's His way, beloved.  Ways far beyond our comprehension, deeper than our minds can plummet in acceptance.    Jesus could embrace unreservedly God's purpose of brokenness because He understood the deep works of God that were cloaked therein. His story is one of profound truth and unwavering proof that God can and will bring forth a harvest of life from the fields of brokenness.   There is no greater harvest than the one that is sown in tears and reaped in mercy.  Let me share with you the words of the late Reverend Vance Havner, one of the world's greatest pastors, evangelists and authors of his day.
"God uses broken things.  It takes broken soil to produce a crop, broken clouds to give rain, broken grain to give bread, broken bread to give strength.  It is the broken alabaster box that gives forth perfume.  It is Peter weeping bitterly, who returns to greater power than ever."
Brother Havner had laid hold of the magnificent promises of God concerning brokenness.  He understood what a powerful force suffering could be in the life of the child of God, who had yielded itself into the hands of the Father.  God will use no greater path in your life than the one that has been burrowed out in brokenness.  It is Heaven's great mystery of beauty that can never be fully understood upon the earth.
 We can recount the life of Daniel who was thrown into the lion's den, Noah who was sealed up inside the Ark of God's protection as the earth was being purged with water, Moses who was stripped of the right to go into the Promise Land, King David who lost his son and right to build the Lord's temple. There's Stephen, the first martyr of the church who was stoned to death, the prophet Isaiah who was placed inside a hollow log and sawn in two, Abraham who had to leave the only homeland he had ever known, Job who lost everything he owned and all  his children in one day. 
We could name the apostles if time would permit, but I believe we understand what God has proven with their lives.  God uses the brokenness of the lives of His people to make others whole.  Life comes out of death, and wholeness is wrought about through the avenue of brokenness.  Now comes the question we must ask ourselves; what is God breaking in your life?   Have you yielded to His hand, His way, His will?  Are you struggling with the sufferings that God has allowed you to experience?  Are your losses viewed as God's anger toward you?  Understand, oh daughter, that God uses brokenness to bring about His glory and prove His love to a lost and dying world.  Brokenness is a gift that God gives to us out of a heart of love.   What a beauty you are and a delight in His hands when you bend the knee of acceptance before His throne of grace. 
In brokenness I will be made whole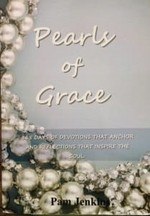 Pearls of Grace Devotional Book
Pearls of Grace is a book of devotions for the entire year, including a read through the Bible in a year calendar, broken down for every day. Beautifully written with encouraging words of hope and empowering words of joy and strength for every woman. Pam draws from the truth and richness of God's Word and gives real life examples in her down to earth style. A must have in your library, click here for more information.
For more from Pam Jenkins and Jabbok Ministries, please visit www.jabbokministries.com!
Listen to Pam Jenkins's daily broadcast on OnePlace.com.
For more from Pam Jenkins and Jabbok Ministries, please visit www.jabbokministries.com!
Listen to Pam Jenkins's daily broadcast on OnePlace.com.