October 19
A Love For God's Word
"If Your law had not been my delight, Then I would have perished in my affliction. I will never forget Your precepts, For by them You have revived me."
Every woman or man that God has used mightily upon the earth has been life-long students of God's Word. If we are not filling our hearts with His truth then what will we have to pour out upon those who are need of it? It's amazing to see so many struggling to accomplish the work of God through earthly wisdom, and fleshly tactics. We ask God to bless us in our teaching, in our ministries but lack the love and study of His Word in our lives. Much of the work is being done apart from diligent study of God's words deeming it as unnecessary to succeed in ministry. But Paul instructs Timothy that, "All scripture is inspired by God and profitable for teaching, for reproof, for correction, for training in righteousness; that the man (or woman) of God may be adequate, equipped for every good work." (2 Timothy 3:16-17 NASB) Our adequacy, our equipping for every good work comes from Scripture. If we want our ministries to prosper then the Word of God is the answer, not better programs, methodology or more talented willing members.
Faithful mining in the LORD'S mine of Scripture will produce in you a reverence for Him, a fear of sin and a love to serve Him. It will grow you beyond anything you could ever imagine and in the process mold you into the very likeness of Jesus Who is the Word. (John1:1 & 14). You cannot become like Jesus if you do not become like the Word. Throughout the span of Scriptures you will see the greatest promises from God are regarding His Word. He watches over His Word to perform it, to accomplish His purposes as a Faithful Watchman upon the walls of Glory. His Word reveals Who He is, and who He desires you to be and how to become that woman. Listen carefully O daughter, you will never become the woman God intends for you to be, never fulfill the plans He has for you apart from the study of His Word. Until you become desperate to know His Word so you can know Him, you will cease to grow and will stay in a perpetual holding place in spiritual service for His Kingdom.
The more you read and study the word of God, the more you will long for it, yearn for more of it. It will become to you like breathing; something you cannot live without once it has given you life. There is no substitute for diligent Bible Study, none. You will find God there, always, waiting and longing to meet with you and fellowship with you; teaching you His ways that you may know Him. You will receive the fullness of God's heart upon its sacred pages; His breath has been upon every word. His precious Words are life to your bones, strength to your age, comfort for your pain, guidance for today and your hope for tomorrow. They will clothe you in confidence yet gird you about with the sweetness of humility. You will be strong and courageous, full of faith and showing no fear before others. You will have no dread of the future or present circumstances because the word is the blanket of sovereignty draped across your soul.
Thy word is the fire in my bones.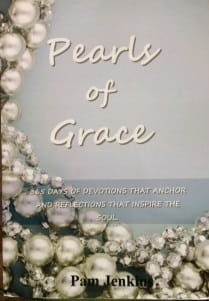 Pearls of Grace Devotional Book
Pearls of Grace is a book of devotions for the entire year, including a read through the Bible in a year calendar, broken down for every day. Beautifully written with encouraging words of hope and empowering words of joy and strength for every woman. Pam draws from the truth and richness of God's Word and gives real life examples in her down to earth style. A must have in your library, click here for more information.
For more from Pam Jenkins and Jabbok Ministries, please visit www.jabbokministries.com!
Listen to Pam Jenkins's daily broadcast on OnePlace.com.