August 24
Would the Real Woman Please Rise!
"A gracious woman attains honor"
Where is the character that lingers in refreshing wonder after the woman has left the room? When did being a woman mean the absent of modesty and humility? How can a woman, who has no modesty, integrity or morals be hailed as a hero to women everywhere? When did it become okay for a woman to stop being a woman and take on the roll of a man? Where did women get the idea that they can talk, walk, act and speak any ole way they want to and still be called a woman? What is a real woman? How can we spot her and even more importantly how can we resurrect her in this generation? Being a woman, in my day, meant being a lady every day. It didn't mean that you couldn't climb trees or ride bikes or even play in the dirt making mud pies, it just meant that girls were girls and boys were boys and there weren't no confusing the two.
Girls grow up to be mothers, wives and women of honor impacting four generations beyond their own. Girls have the privilege of keeping the home, the most sacred fortress for a child that there can possible be. Girls grow up to read bed time stories to future presidents, teachers, farmers, mechanics, doctors, preachers, lawyers, firemen, nurses, accountants, and the most important…future moms! They grow up to be the most powerful force of influence in the world without ever having to leave their home. They are without a doubt the moving force of our universe and without them our world would be hopelessly without order, drive and purpose. The woman holds the home together and binds the hearts of the family in unity. She is strong, resilient and unafraid of the future because she has invested for it every day of her young children's lives.
A gracious woman's character will live on long after she's gone speaking her faith into the hearts of countless others. She is not soon forgotten and when she is, her memory lives on with the heart of scores of other women and men and even then, when they are forgotten, her influence never will be. There is no shame in being a woman; a gracious woman. A gracious woman is beautiful on the inside and from this depth of soul she pours forth life. She respects her design because to her its noble and stunning to see. Her presence can light up a room and steal the attention of an audience of one even in the midst of a hundred without ever speaking a word. Her poise and charm are genuine and her kindness is unbridled. She will never do harm and she will always seek to build up and stake her life to protect.
May we, as women, soften our voices, strengthen our character and in the doing so, pour out grace upon the next generations. Give women a good name by building a name upon the timeline of history, an enduring legacy of honor that can stand as it passes the torch of your light to the next woman who caught of glimpse of its glow.
Leave the imprint of grace upon your life path.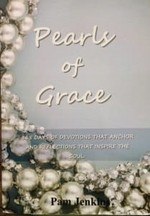 Pearls of Grace Devotional Book
Pearls of Grace is a book of devotions for the entire year, including a read through the Bible in a year calendar, broken down for every day. Beautifully written with encouraging words of hope and empowering words of joy and strength for every woman. Pam draws from the truth and richness of God's Word and gives real life examples in her down to earth style. A must have in your library, click here for more information.
For more from Pam Jenkins and Jabbok Ministries, please visit www.jabbokministries.com!
Listen to Pam Jenkins's daily broadcast on OnePlace.com.
For more from Pam Jenkins and Jabbok Ministries, please visit www.jabbokministries.com!
Listen to Pam Jenkins's daily broadcast on OnePlace.com.