Week 49
The Plans of the Diligent
The plans of the diligent lead to profit as surely as haste leads to poverty. Proverbs 21:5
In 2014, Eritrean-born American Meb Keflezighi won the Boston Mara- thon. As a former refugee from East Africa, his journey is nothing short of inspirational and his victory was very emotional to those who knew his story. In addition to winning in Boston, Keflezighi won the New York City Marathon and an Olympic medal. He's the only one in history to do all three.
In his commencement address at National University, the patriotic, Christian man compared running to the real world. "Falling down is part of sports and life, but injuries heal and challenging circumstances can be overcome."
To see someone from a poor, war-torn country achieve so much should encourage us all to try our best. Like me, you probably don't have an Olympic medal in your future, but we can still start plugging away. Meb can be our inspiration as we seek to emulate the spiritual diligence of a long-distance runner.
Sweet Freedom in Action
Today, grab an item on your to-do list, and have the stamina to cross the finish line and then run on to the next item. It's truly exhilarating!
---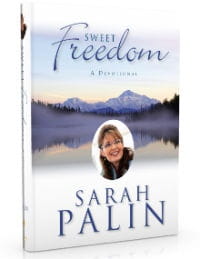 In Sweet Freedom, Sarah Palin invites you to draw strength and inspiration from 260 meditations based on guiding Biblical verses. You are not alone in your doubts and anxieties—we all bear the burdens of everyday stresses, and for most of us, our concerns spread beyond our selves to our families, communities, and country. But Palin shows that with abiding faith, and by opening ourselves to the truths that have saved mankind for generations, we can thrive—and experience true freedom.