Week 35
I'm in the Lord's Army, Yes Sir
David left Gath and escaped to the cave of Adullam.... All those who were in distress or in debt or discontented gathered around him, and he became their commander. About four hundred men were with him.
>1 Samuel 22:1–2
I think we can all identify with David in "the cave of Adullam." We've all had times in our lives when we wanted to hide in a cave, hoping somehow life would change. But like David, we learn that there really is no place to hide.
Funny how God works. He sent guys who were in distress, in debt, and discontent to that cave, and David became commander over them. It was one motley crew. David might have doubted whether he would be able to do much with them. Yet, these were the very warriors described in 1 Chronicles 12 as "brave warriors, ready for battle and able to handle the shield and spear. Their faces were the faces of lions, and they were as swift as gazelles in the mountains...."
If you doubt you're good enough to be used by God, you don't know God. He loves to take ordinary folks—think Moses with his stutter—and do extraordinary things with them. Though those men came to David in less than ideal circumstances, they didn't leave that way. God used their ordinary lives to accomplish His extraordinary purpose.
Sweet Freedom in Action
Remember the rallying cry of Charles Spurgeon: "Bankrupt debtors make good soldiers for the King! Come, then, without more ado, and be enlisted in the King's army!" God wants us in His army, whatever our circumstances, whatever our debts, whatever our merit. Let's go!
---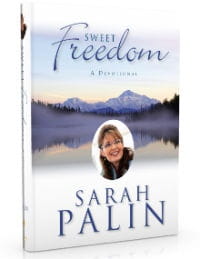 In Sweet Freedom, Sarah Palin invites you to draw strength and inspiration from 260 meditations based on guiding Biblical verses. You are not alone in your doubts and anxieties—we all bear the burdens of everyday stresses, and for most of us, our concerns spread beyond our selves to our families, communities, and country. But Palin shows that with abiding faith, and by opening ourselves to the truths that have saved mankind for generations, we can thrive—and experience true freedom.