Week of December 10
The Wondrous Gift
By Skip Heitzig
The world has witnessed some unusual births in its history. Of course you heard about the woman in California gave birth to octuplets—eight babies. And that's not all. Sometimes children are born abnormally large. There was once a 16-pound baby born to a couple in St. Louis. He measured 20 inches around his shoulders. I bet the NFL tried to recruit that baby as soon as they could!
The Bible has a number of unusual births. Isaac was born when his mother Sarah was in her 90s. Samuel's mother was infertile until she prayed and the Lord gave her a son. John the Baptist's mother was not only infertile, but his parents were both elderly. These were all unusual but not unique, because there was a human father involved.
But the birth of Jesus was a singularly unique, marvelous event. Isaiah 7:14 predicted, "Therefore the Lord Himself will give you a sign: Behold, the virgin shall conceive and bear a Son, and shall call His name Immanuel." The word means "God with us." Matthew says this prophecy was fulfilled in the birth of Jesus Christ (Matthew 1:22-23).
There's no record of Him being called Immanuel, so it's best to see this as a description. This baby, born to Mary, is God with us. Jesus is God spelling Himself out in a language we can understand. In other words, if you want to know what God is like, look at Jesus. If you want to know what God thinks about things, listen to what Jesus said. If you want to see what God's value system is, look at the life of Jesus Christ.
Jesus told his disciples, "If you've seen me, you've seen the Father" (see John 14:8-11). So when we see Jesus healing a blind man, we are seeing a compassionate God. When we see Jesus weeping over the city of Jerusalem, we're seeing a God who is hurt over sin. When we see Jesus teaching a crowd of people, we see a God who is concerned that people learn truth.
And when we see Jesus hanging on a cross, we see God determined to deal with sin. That's why Immanuel—"God with us"—came. To deal with our sin. To give us hope. As the angel told Joseph, "Do not be afraid to take to you Mary your wife, for that which is conceived in her is of the Holy Spirit. And she will bring forth a Son, and you shall call His name Jesus, for He will save His people from their sins" (Matthew 1:20-21).
The old carol "O Little Town of Bethlehem" has these words: "How silently, how silently the wondrous gift is given!" If you've never received the wondrous gift of Jesus Christ and His salvation, I invite you to do that right now!
Copyright © 2010 by Connection Communications. All rights reserved.
For more from Skip Heitzig, visit ConnectionRadio.org,
and listen to today's broadcast of The Connection with Skip Heitzig at OnePlace.com.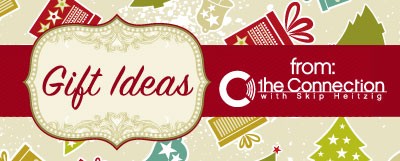 Download, view, or order a copy of our Christmas gift brochure.