5 Things Christians Need to Know about Indonesia, the Recent Earthquake/Tsunami, and Relief Efforts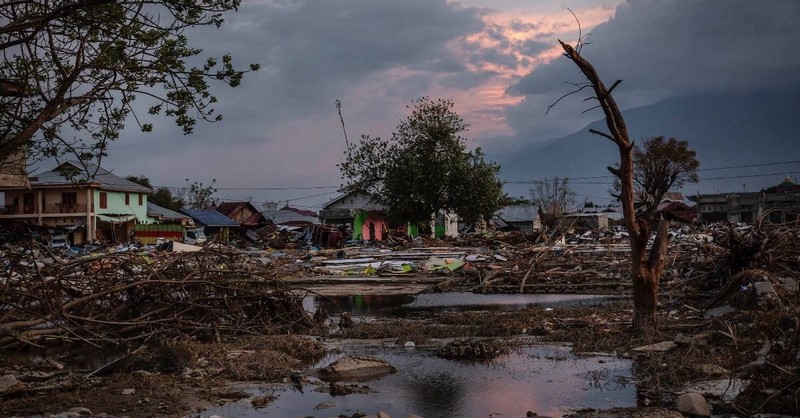 On Friday, Indonesia was hit with a massive 7.5 magnitude earthquake that triggered a tsunami with waves reaching up to 20 feet. As of Tuesday, the death toll is around 1,350 people and climbing.
Wednesday afternoon October 3, Indonesia was struck with yet another disaster as a volcano on Sulawesi, one of the Indonesian islands, erupted. According to the Associated Press, Mount Soputan started spewing ash nearly 20,000 feet into the sky. Experts are saying this could be a direct result of the earthquake that happened last week.
As a result of this recent string of disasters on the Indonesian islands, thousands of people have either died or been displaced. The government is now calling for international aid as they race the clock to save lives and honor religious traditions. Incredibly, this story has received relatively little mainstream coverage in the Western hemisphere.
Here are five things you need to know about Indonesia and the Earthquake/Tsunami, including details, demographics, and what you can do to help!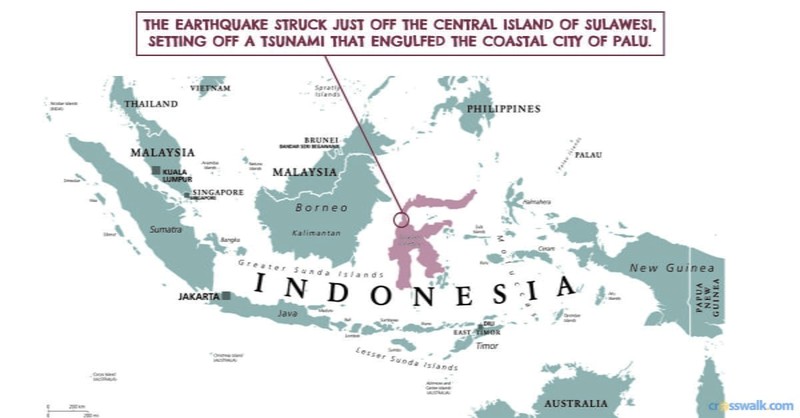 1. Indonesia is located in a geographical region referred to as the "Ring of Fire."
The tragedy in Indonesia comes following a major earthquake and landslide that happened last month in the neighboring islands of the Philippines. These countries are vulnerable to natural disaster's such as earthquakes, tsunamis and landslides given their geographic location in what scientists call the "ring of fire." According to National Geographic, the Ring of Fire is an area around the edge of the Pacific Ocean where there is a string of volcanoes and several sites of seismic activity, or earthquakes. National Geographic writes that "Roughly 90% of all earthquakes occur along the Ring of Fire, and the ring is dotted with 75% of all active volcanoes on Earth."
This is particularly problematic for Indonesia as it is a archipelagic country made up of 17,000 to 18,000 small islands stretching along the equator in South East Asia. Of these thousands of islands, only 922 are permanently inhabited with a population of 261.1 million people.
This year alone Indonesia has had nine earthquakes, eight of which were greater than a 5.0 magnitude. This one, however, was the only one to result in a tsunami.
Image courtesy: ©SalemWebNetwork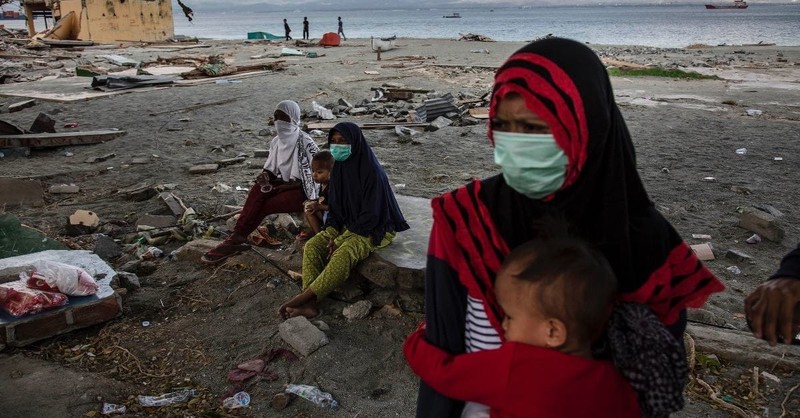 2. The majority of the population is Muslim.
Muslim populations could be found in Indonesia as early as the 13thcentury in northern Sumatra. Gradually more and more people subscribed to Islam as opposed to Hinduism and Buddhism like those who inhabited the land before them. Today roughly 88 percent of the population identifies as Muslims, this is important in the cases of mass casualties because Muslim tradition dictates that a person must be buried within 24 hours of dying. Because of this, volunteers have been called upon to dig a massive 33-foot by 330-foot grave for the mass burial of those who lost their lives because of the tragedy. On Monday over 545 bodies were buried in the grave, but volunteers are preparing for a total of 1,300 bodies to arrive. Generally, in Indonesia citizens live in relative religious and cultural harmony.
Image courtesy: Getty Images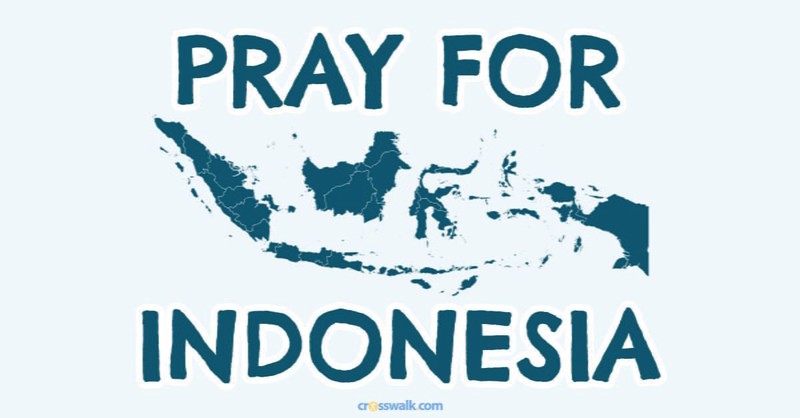 3. The economy in Indonesia is one of the fastest growing economies in emerging countries, but they are in major debt.
Indonesia's economy was in disarray following the Asian financial crisis in 1997 and has taken several other economic blows with Chinese market crashes over the years. Slowly, the country's economy has been recovering, leading to it being called the leading emerging economy in the Southeast Asian sector. The economy was growing at a steady five percent each year up until this point, still, Indonesia is in massive debt. The country's current deficit is USD $5.5 billion. According to Indonesia Investments, this is equivalent to 2.15 percent of the nation's GDP in the first quarter of 2018. This is a steep deficit compared to the previous year which was only USD $2.4 billion in the first quarter. The Rupiah, Indonesia's currency, was under pressure prior to the quake and tsunami from an emerging market currency sell-off, but with the death of almost 1,500 people so far, and the massive hit to the budget for reconstruction, the rupiah's value has depreciated even more. This year the rupiah has dropped in value by nine percent to the dollar. Government officials have also expressed concern about the effects the collapse of the tourism industry will have on the economy amid the disaster. Bloomberg reports that the Indonesian government was planning to counter rupiah depreciation by leaning on tourism, an industry that in many areas has been completely wiped out.  This, along with several other factors, including as debris, lack of equipment, and a prior lack of resources, is making it incredibly difficult for the country to provide for the 1.6 million people effected by the disaster. On Monday the government announced its need for international aid, and as such organizations from around the world have sprung into action to help. 
Franklin Graham's international Christian relief organization Samaritan's Purse has begun to bring supplies to Indonesia. On Tuesday, the organization announced that they would be preparing to airlift life-saving emergency relief supplies to the disaster ridden country. With more than 1,300 people dead and thousands homeless and in desperate need, the team is planning to fly cargo jets over with heavy-duty plastic tarp, water filtration units, cooking kits and hygiene supplies for survivors. The North Carolina-based organization has a team made up of disaster response specialists on the ground in Indonesia already who are preparing to distribute critical supplies. The organization is deploying its DC-8 from North Carolina and chartering an MD-11 from Dubai to serve the people of Indonesia in whatever capacity they can.
Image courtesy: ©SalemWebNetwork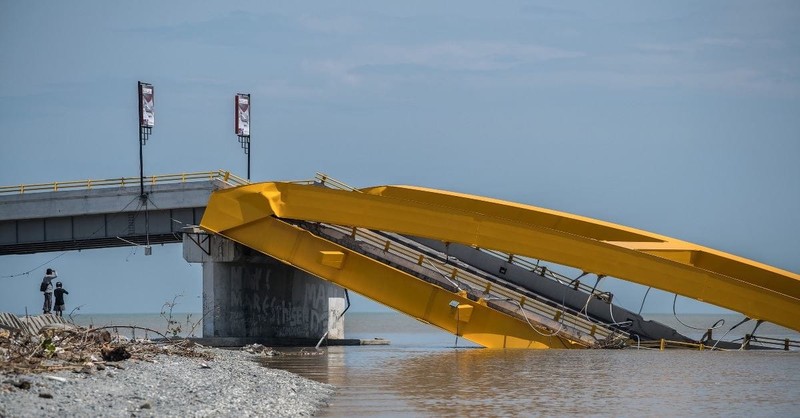 4. The disaster has likely caused hundreds of billions of dollars in damage.
So far it is being reported that 1.61 million people have been affected by the quake and tsunami, but many areas are yet to be evaluated. Fox News reports that Donggala, Sigi and Parigi Moutong, which have a combined population of 1.2 million people have yet to be fully assessed as many areas are blocked off from aid. Thousands of homes, cars and businesses have been flattened and that total number of displaced people continues to grow, now in the 100,000s. A Hotel called Hotel Roa Roa collapsed in Palu with some 50 people inside. So far 3 survivors have been recovered from the hotel's wreckages and nine bodies have been found. BBC reports that many are feared to still be buried.
One major structure that was damaged by the twin disasters was a mainline bridge in Palu, the island that sustained the most damage and the highest losses. A major bridge in Palu was broken into several pieces and completely flattened, cutting off transportation in some areas and making the receipt of aid more difficult on the island. Along with the damaged bridge, there are also handfuls of blocked roads, significant damages to hospitals, a partially closed airport, and downed telecommunications. The Palu airport has been temporarily converted into a military base for flying out supplies, but crowds of people have flocked to the airports tryinh to escape. This has made it difficult for pilots to land for fear of being mobbed. One survivor, 44-year-old food vendor Wiwid, told Reuters, "I'd get a plane anywhere. I've been waiting for two days. Haven't eaten, barely had a drink." The United Nations Office for the Co-ordination of Humanitarian Affairs says there are nearly 200,000 people in urgent need of assistance, about a quarter of them children.
Image courtesy: Getty Images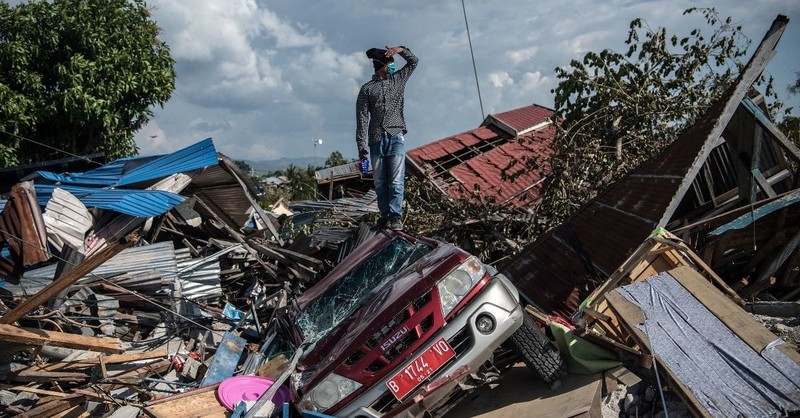 5. There are tons of ways you can help Indonesia.
There are dozens of aid and relief organizations currently working in or with Indonesia amid this disaster. Many organizations have boots on the ground, like Samaritan's Purse, and others have helped monetarily. Here is a short list of high-rated Christian relief organizations whom you can get involved with if you are compelled to join the relief effort in Indonesia.
World Vision International

. World Vision International is an evangelical Christian humanitarian aid, development and advocacy organization. They are currently on the ground in Indonesia and accepting donations

Samaritan's Purse

. Samaritan's Purse is an evangelical Christian humanitarian aid organization that provides international aid as a key part of Christian missionary work. This organization is run by evangelist Franklin Graham

Catholic Relief Services

. Catholic Relief Services is an international humanitarian aid organization guided by the Catholic mission of doing good works for others. 
World Hope International. World Hope International is a Christian relief and development organization that works in vulnerable communities to alleviate poverty, suffering and injustice.
Image courtesy: Getty Images
---