The Cross & the Pen: The Twenty-third Psalm for Caregivers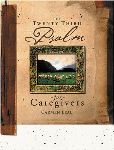 Have you ever been a caregiver, or know someone who is? Statistically, the answer to either of those questions is "yes." Sometimes we think of caregivers as adults who care for their elderly parents or other relatives, but that's not always the case.

Take for example my friends, the Bradshaws. Just a few years ago, life was normal. Husband and wife both worked fulltime jobs and had an active social life. Their children, 18-year-old Mandy and 16-year-old Joey, were typical teens. Then, one afternoon in 1999, while on her way to church, Mandy was struck head-on in a car accident, leaving her with severe, near fatal injuries. Since that time, Mandy's mother has been the primary caregiver of her daughter.

Also consider my good friend, author and speaker Carmen Leal. When Carmen married David, she had no idea that he carried a disease within him that, on the date of their third wedding anniversary, would rear its ugly head and demand to be reckoned with. The best years of their marriage were centered around David's being bed bound while Carmen took care of his every need.

Carmen's latest book, The Twenty-third Psalm for Caregivers (AMG Publishers), is a masterpiece of hope and faith for those who are caregivers or who will one day be. Recently, we got together to chat about it. Wanna listen in?

Eva Marie: The book is beautiful I know you must be so excited. Has it met your expectation?

Carmen: This book has gone beyond my expectations. I always wanted The Twenty-Third Psalm for Caregivers to find a home with the right publisher. I wanted a publisher of integrity who cared about the same things I cared about, but I also wanted one who could create a beautiful book. I am thrilled that God found a home [for it] with AMG Publishers.

Eva Marie: Carmen, I've known you for many years and I know this is a book from the very depths of your heart. Will you share with my readers why you chose to write a book for caregivers?

Carmen: I have to laugh that God has me in the thick of ministering to caregivers. I am truly the least likely person for God to use. I hated being a caregiver and, in the beginning, whined a lot about my situation. In 1991 I married David and in 1994 he was diagnosed with a rare neurological disease we'd never heard of. Huntington's Disease is sort of a mix of Alzheimer's, Parkinson's, Multiple Sclerosis, and Paranoid Schizophrenia.  Caring for David is one of the most difficult things I have ever done. Finances and lack of insurance forced us to relocate, and once we moved to Florida from Hawaii, we lost our support system. 

I have never been so alone in my life. I didn't have a church, a job, family, or friends. Somehow, though, I survived. There wasn't one person who really understood what I was experiencing, how I felt.  On the rare occasions when I did get out I'd hear, "How's David? We're praying for David." It was all about David. I understood, but what about how was Carmen? This wasn't just David's disease.

I can truly say that there were days and months and years when the only person I could count on was my Shepherd. I want caregivers to learn to trust the Shepherd during one of the most difficult and loneliest of situations. I also want them to know that it is possible to find joy through caregiving.

Eva Marie: What do you hope will be accomplished by the book?

Carmen: I want to minister to caregivers around the world. I want them to know how much the Shepherd loves them, and that even when it seems no one else cares, no one else wants to or even can help, He is truly all they need. I also want this book to create an awareness of what it means to be a caregiver, and how we as a nation, as a world, need to help. The person suffering from the disease, the accident, the birth defect, will always be uppermost in people's minds. And that is how it should be. But I want people's hearts to break for the caregiver who is sacrificing their dreams, and even their life, to be able to provide care for someone they love.

This is the book I wanted when I was in the thick of caregiving. It's not a fix-it or how-to book. When the reader finishes The Twenty-Third Psalm for Caregivers I want them to understand that there are some things that can't be fixed in life. But that's okay because the Lord is their Shepherd and He will get them through this and every other valley.

Eva Marie: The 23rd Psalm is among the most beloved of all literature, would you agree?

Carmen: Absolutely.

Eva Marie: Of all the chapters and verses in Scripture, why did you choose to write about caregiving using the 23rd Psalm?

Carmen: I chose this passage over every other scripture in the Bible because it is so well known and beloved. First of all, it paints such a beautiful image of our Father Caregiver. As I was caring for David, I needed someone to care for me. The Shepherd never once let me down. Caregiving can be a thankless and unending job. Psalm 23 is a welcome reminder that caregivers are not alone. The Shepherd sees, leads, and empowers them and will restore their weary souls.

People fall into four categories: Those who are caregivers, those who have been caregivers, those who are being cared for, and those who will need care. That means that every person on earth is or will be cared for or a caregiver. It's not an exclusive club for Christians either. Psalm 23 is the one passage that strikes a chord within each person, no matter their religious beliefs. It's a comforting scripture and one that is not controversial or adversarial.

Eva Marie: You interspersed each chapter with lines from old hymns. How did you decide which ones to use?

Carmen:  I wanted to write a universal book, and nothing is more universal than music. I wanted a book where people could see themselves. The hymns I chose are familiar enough to help the reader take ownership; hymns that have reached beyond the realm of "church music," and into a piece of Americana. Each hymn speaks directly to the chapter topic and is short enough to remember. Spencer W. Kimball was right when he said, "Some of the greatest sermons are preached by the singing of hymns."
 
Eva Marie: Carmen, how many caregivers are out there?

Carmen: I don't think we can appreciate the full spectrum of the vast number of Americans who fall into the caregiver category. According to the National Family Caregiver Alliance there are 54 million caregivers in the US today. That does not include those who do it as a job, nor does it include multiples in a family. For instance I have six siblings. If my mother ever needs care, and statistically she will, only one of us will be counted as a caregiver. Does that mean the rest of us don't care? Let's just say that a whole lot of people out there are involved in caregiving at some level.

Eva Marie: I don't think I ever truly appreciated what life was like for a caregiver until I became one...and I was a nurse for many, many years! Express in your beautiful way with words what life is like for a caregiver?

Carmen: I guess I could take the easy way out and suggest to your readers that they read the book since there is no single answer. Honestly, I don't have a concise answer to that question. Life for a caregiver will differ on any given day.  Remember that little girl with the one curl right in the middle of her forehead? When she was good she was very, very good, and when she was bad she was horrid. That's pretty much it. It all depends on how the one we are caring for is feeling or acting; Or if the insurance is paying their bills, if the disability check came in.

A 2000 study by the Family Caregiver Alliance reported caregivers are isolated, frustrated, overworked and depressed.

65 percent of caregivers don't receive consistent help from other family members.
69 percent of caregivers say frustration is their most frequently felt emotion.
77 percent of caregivers are employed outside of the home at least part time.
49 percent of all family caregivers say they have suffered from prolonged depression.

Those aren't beautiful words or emotions, but they are real and they show how much caregivers need the Shepherd.

Eva Marie: What is the most difficult curve in the road for a caregiver?

Carmen: I have spoken to thousands of caregivers over the years and there is a sameness about our situations. There are a lot of difficult curves, but the one that is mentioned over and over is the surprise of having family and friends abandon the caregiver. These are not unkind people, but it's hard being part of someone's trials for years and years. Most people don't know how to act, what to say, what to do. We live in a society when we want to fix things and most of what is going on in a caregiving situation can't be fixed.

I hope that non-caregivers will also read The Twenty-Third Psalm for Caregivers so that they have a better understanding of how they can help the caregiver. It doesn't take much to show the Shepherd's love to a caregiver; a card, a meal, renting a movie and bringing it over with popcorn, volunteering to watch the patient so the caregiver can get a break.

Eva Marie:  I read the story of Linda, a mother with extraordinary courage who said "no" when doctor's told her to prepare for her disabled daughter's death. In my way of thinking both letting go and fighting take an enormous amount of courage. How does a caregiver know when it's time to "let go" and when it's time to "fight?"

Carmen: And that's the caregiver's conundrum; there's never a right time to say good-bye and we are always ready for the battle to be over.  In our flesh we can't know when it's time to let go or when we need to keep fighting. This is when we need the Shepherd more than at any other time. When we pray He does answer. Sometimes He answers by bringing Hospice on board to help us make the hard decisions. Sometimes He brings in a specialist with another option and we know we have to keep fighting. To every question the answer lies in the Shepherd.

Eva Marie: Carmen, would you offer up a short prayer for those who are caregivers?

Carmen: Dearest Shepherd, help us to use You as our caregiver model. Thank you for being here, providing for us every step of the way on our caregiving journey, even when everyone around us seems to have gone. Thank you for guiding us through what seems like a never-ending valley into promised joy. Amen.


For more information about Carmen Leal, go to: www.writerspeaker.com
If you'd like to know more about Mandy Bradshaw and how you can pray for her, go to: www.pray4Mandy.com


Award-winning national speaker, Eva Marie Everson's work includes "Intimate Moments with God and Intimate Encounters with God" (Cook). She is the author of "Shadow of Dreams," "Summon the Shadows" and "Shadow of Light." (Barbour Fiction) She can be contacted for comments or for speaking engagement bookings at  www.EvaMarieEverson.com