'Life Begins at Conception': Oklahoma Gov. Kevin Stitt Signs Nation's Most Restrictive Abortion Ban into Law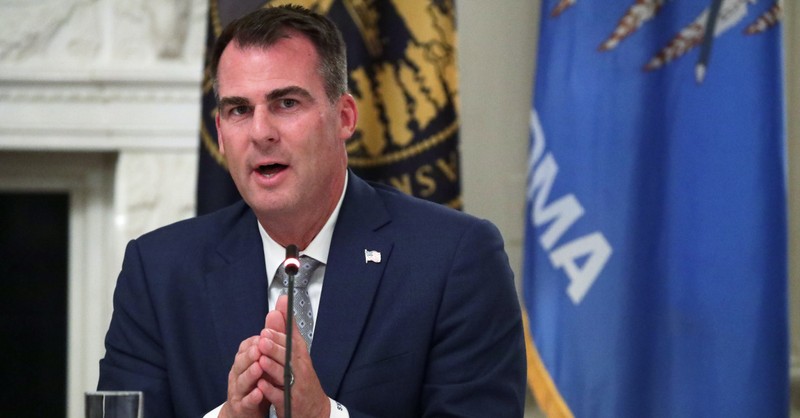 Oklahoma Governor Kevin Stitt signed the nation's strictest abortion ban into law on Wednesday, banning the procedure from the moment of conception.
House Bill 4327 went into effect immediately after Stitt signed it on Wednesday. It is considered the strictest abortion law in the nation because it restricts physicians from performing abortions at any point in the pregnancy except for in cases of rape, incest or a medical emergency.
"I promised Oklahomans that as governor, I would sign every piece of pro-life legislation that came across my desk, and I am proud to keep that promise today. From the moment life begins at conception is when we have a responsibility as human beings to do everything we can to protect that baby's life and the life of the mother," Stitt said in a statement.
"That is what I believe, and that is what the majority of Oklahomans believe. If other states want to pass different laws, that is their right, but in Oklahoma, we will always stand up for life."
The new law also allows citizens to file civil lawsuits for up to $10,000 against anyone who performs an abortion or assists a woman in obtaining one. The woman seeking the abortion, however, cannot be sued.
According to Oklahoma City NBC affiliate KFOR, Emily Wales, the President and CEO of Planned Parenthood Great Plains, denounced Stitt's signing of the pro-life bill.
"Oklahoma's politicians, from the governor on down, are determined to strip rights from anyone who could become pregnant. This is no surprise in a state that has consistently ranked among the worst in the nation for maternal mortality and child health outcomes," Wales said in a statement.
"Today, for the first time in nearly 50 years, abortion is illegal – at every stage of pregnancy – in an American state. People who can become pregnant now have fewer rights and fewer protections in Oklahoma than in any other state in the union. Legislators who, in overwhelming numbers, cannot become pregnant have just made lesser citizens of those who can."
Lila Rose, the president of the pro-life organization Live Action, however, praised the new law, calling it "one of the strongest pro-life bills in the country."
"@GovStitt just signed one of the strongest pro-life bills in the country. As of tomorrow, every abortion facility in the great state of Oklahoma will be shut down," Rose tweeted.
"Thousands of children's lives will be saved. The pro-life movement is just getting started!"
The new law is just one of several pro-life bills passed by Oklahoma lawmakers this year. Last month, Stitt signed Senate Bill 612 into law, which bans nearly all abortions in the state except in cases where the mother's life is at risk. The law, which goes into effect in late August, makes it a felony for doctors to perform abortions. Doctors who perform the procedure could face up to 10 years in prison and up to $100,000 in fines.
Earlier this month, Stitt, a Republican, also signed a Texas-style heartbeat bill into law. The legislation, the Oklahoma Heartbeat Act (SB 1503), prohibits a woman from having an abortion once a fetal heartbeat is detected, which is typically around six weeks of pregnancy. It also allows private citizens to sue anyone who performs an abortion or assists a woman in receiving one for up to $10,000.
The bill immediately went into effect after Stitt signed it into law.
Related:
Oklahoma Lawmakers Pass Nation's Most Restrictive Abortion Ban
Oklahoma Gov. Signs Bill Banning Nearly All Abortions
Oklahoma Gov. Kevin Stitt Signs Texas-Style 'Heartbeat Bill' into Law

Photo courtesy: ©Getty Images/Alex Wong/Staff
---
Milton Quintanilla is a freelance writer and content creator. He is a contributing writer for Christian Headlines and the host of the For Your Soul Podcast, a podcast devoted to sound doctrine and biblical truth. He holds a Masters of Divinity from Alliance Theological Seminary.