5 Key Takeaways from the Second Jan. 6 Committee Hearing
Michael Foust

ChristianHeadlines.com Contributor

Updated

Jun 14, 2022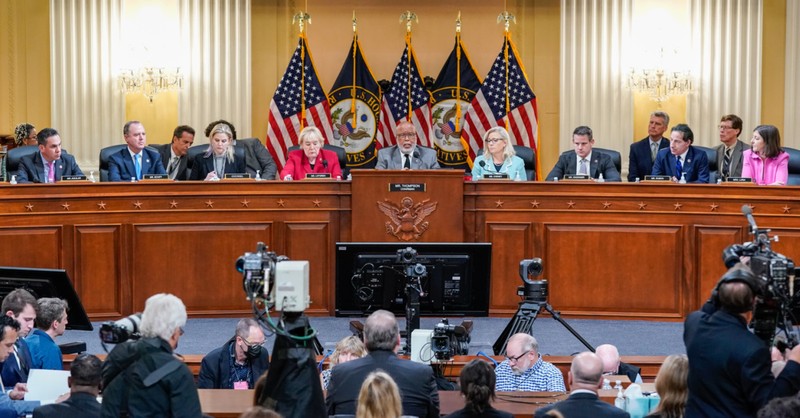 The U.S. House Select Committee on the Jan. 6 Attack held its second day of hearings Monday, asking questions of in-person witnesses and playing recorded clips from previous witnesses, including President Trump's attorney general, campaign manager and advisors.
Here are five key takeaways:
1. Bill Barr: Trump Was' Detached from Reality'
Bill Bar, Trump's attorney general, said he disagreed with Trump's argument that Dominion machines had skewed the election results.
"He went off on a monologue saying that there was now definitive evidence involving fraud through the Dominion machines," Barr said, referencing a Dec. 14 meeting. "... He said, you know, 'This is absolute proof that the Dominion machines were rigged. The report means that I'm going to have a second term.' And then he gave me a copy of the report."
Barr said the report looked "very amateurish" and lacked "supporting information."
Barr said he was "demoralized."
"I thought, boy, if he really believes this stuff, he has lost contact with – he's become detached from reality if he really believed this stuff," Barr said. "... When I went into this and would tell him how crazy some of these allegations were … there was never an indication of interest in what the actual facts are."
"My opinion then and my opinion now is that the election was not stolen by fraud," Barr said.
2. Trump Campaign Manager Bill Stepien: Arguments Were Dishonest
Bill Stepien, who served as Trump's campaign manager for the 2020 election, told the committee he did not agree with the legal strategy being pushed by Rudy Giuliani and others after the election.
"I didn't think what was happening was honest or professional," Stepien said. "... I've been doing this for a long time – 25 years – and I've spanned political ideologies, from Trump to McCain to Bush to Christie. And I can work under a lot of circumstances for a lot of varied candidates and politicians. … I didn't think what was happening was necessarily honest or professional at that point in time. So that led to me stepping away."
3. Stepien and Kevin McCarthy Urged Trump to Embrace Mail-in Ballots
During the summer of 2020, Stepien and House Minority Leader Kevin McCarthy met with Trump, encouraging him to embrace mail-in ballots and to ask GOP voters to cast their votes early.
"I invited Kevin McCarthy to join the meeting," Stepien said of a meeting with Trump. "He [McCarthy] being of like mind."
"We made our case for why we believed mail-in balloting, mail-voting" was not "a bad thing for his campaign."
Stepien said he made two arguments: 1) relying on Election Day voting was leaving "a good deal to chance," and 2) the Republican Party had an "advantage of grassroots workers and volunteers" on the ground that would "enhance return rates of ballots that were mailed."
"But, you know, the president's mind was made up," Stepien said.
4. Stepien Encouraged Trump not to Declare Victory on Election Night
Stepien said he urged Trump not to declare victory in the early hours after Election Night.
"My belief, my recommendation was to say that votes were still being counted, it's too early to tell, too early to call the race. But, you know, we are proud of the race we ran. And we think we're in a good position. And we'll have more to say about this, you know, the next day, or the next day whenever we had something to say," Stepien said.
"The president disagreed with that," Stepien said.
5. Giuliani Was Intoxicated when He Advised Trump
Stepien and Jason Miller, a senior advisor to Trump, said Rudy Giuliani was intoxicated on Election Night when he encouraged Trump to declare victory.
"The mayor was definitely intoxicated," Miller said. "... Mayor Giuliani was saying, 'We won it. They're stealing it from us. Where did all the votes come from? We need to go say that we won.'"
Said Miller, "I was saying that we should not go and declare victory until we had a better sense of the numbers."
Stepien agreed.
"It was far too early to be making any calls like that," Stepien added. "Ballots were still being counted. Ballots are still going to be counted for days. And it was far too early to be making any proclamation like that."
Related:
January 6 House Panel Blames Donald Trump for Attack on the U.S. Capitol

Photo courtesy: ©Getty Images/Pool/Pool
---
Michael Foust has covered the intersection of faith and news for 20 years. His stories have appeared in Baptist Press, Christianity Today, The Christian Post, the Leaf-Chronicle, the Toronto Star and the Knoxville News-Sentinel.