Atheist Group Condemns Ron DeSantis for Painting Nonreligious People 'In a Deeply Unfavorable Light'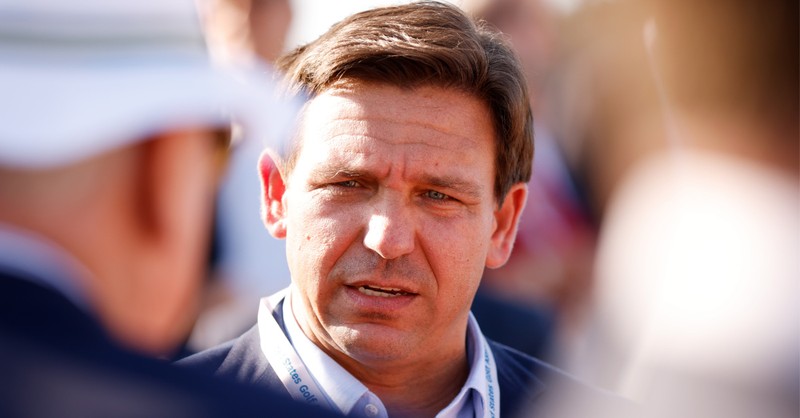 An atheist activist group is calling on Florida Governor Ron DeSantis to retract remarks he made at a recent press conference suggesting that people without a "religious foundation" are politically radical and prone to violence
During a press conference in Fort Walton Beach, Florida, on June 9, DeSantis addressed the recent assassination attempt on Justice Brett Kavanaugh.
"I think there's a lot of really, really crazy people out there, unfortunately, that really get consumed with ideology," the Republican governor said during the news conference. "These are people that don't really have, I think, a religious foundation or any type of relationship with God, and so they turn to radical politics as kind of what they're going to do."
The Freedom From Religion Foundation rebuffed these claims.
"DeSantis made these insulting and baseless statements at a press conference a few days ago regarding the person who allegedly attempted to assassinate U.S. Supreme Court Justice Brett Kavanaugh," the FFRF said in a statement. "DeSantis claimed so-called 'lunatics' lack a 'religious foundation' or any type of 'relationship with God.'"
The group went on to denounce DeSantis for painting nonreligious people "in a deeply unfavorable light," Faithwire reported.
"Scientific studies have shown that societies and states with less religion have less violence, as Secular Studies Professor Phil Zuckerman has documented," the group claimed. "Nations and states that tend to be among the most religious have the highest rates of violent crime and murder."
For example, FFRF pointed to the attack on the U.S. Capitol on Jan 6, 2021, where multiple Christian flags, Jesus signs, crosses and other religious symbols were present.
"Nonreligious Americans are the fastest-growing segment of the U.S. population by religious identification — three in 10 adults today (29 percent of the population) identify as atheists, agnostics or "nothing in particular. Overall, 35 percent of Americans are non-Christian," the group said, citing a Pew Research study.
"DeSantis needs to withdraw his groundless comments. And he owes his nonreligious constituents an apology," the statement concluded.
Related:
Armed Man Who Wanted to Assassinate Brett Kavanaugh Arrested Near Justice's Home
Photo courtesy: ©Getty Images/Cliff Hawkins/Staff
---
Milton Quintanilla is a freelance writer and content creator. He is a contributing writer for Christian Headlines and the host of the For Your Soul Podcast, a podcast devoted to sound doctrine and biblical truth. He holds a Masters of Divinity from Alliance Theological Seminary.