Tucker Carlson Argues that 'Hostility to Faith' Motivates the Political Left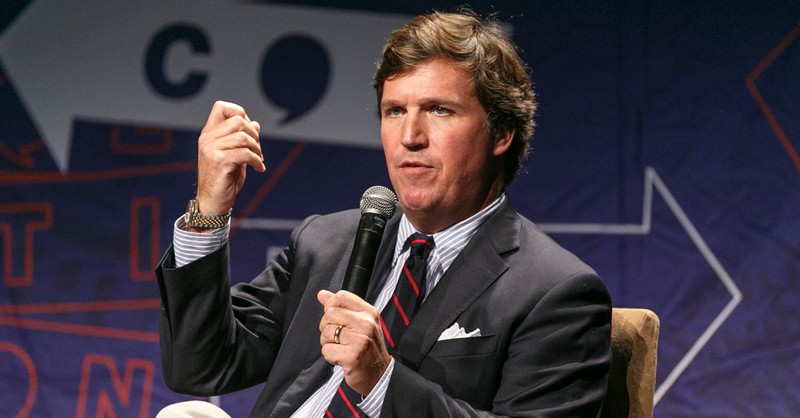 Fox News host Tucker Carlson recently asserted that 'hostility to faith' and Christianity motivates secular and left-leaning people.
According to ChurchLeaders.com, Carlson delivered a speech on Friday, July 15, at The FAMiLY Leadership Summit in Des Moines, Iowa. He was one of the featured speakers at the conference. Popular pastor and author Dr. Tony Evans of Oak Cliff Bible Fellowship in Dallas, Iowa governor Kim Reynolds and several other church leaders also spoke at the event.
"Hostility to faith, but to Christianity, traditional Christianity in particular, is really one of the animating forces on the other side," Carlson said, referring to the political left. "I know that there are Christian leaders who pretend otherwise, but they're not telling the truth," he added.
"Anyone who sincerely believes in God, an actual God, probably not going to hand unlimited power to any person, right? So religious faith is a natural check on their power.
"That's true always and everywhere. And Christianity, specifically, is that. So, if you're a Christian conservative, holy smokes, you, on a gut level, feel threatened. And I feel it too," Carlson said.
The Fox News host went on to discuss the upcoming 2024 presidential election. Carlson asserted that Republican voters have been given a unique opportunity to leverage their power.
"However high the dissatisfaction Republican voters have for their own leaders, the other side is so menacing, so scary at this point," Carlson said. They have "fully embraced delusion, extremely high levels of aggression," he added.
During his speech, Carlson also noted that it is unlikely that President Joe Biden will run for a second term.
He added that while many people believe they may know who the Republican presidential candidate will be, there will be a "mad scramble for power" once the election cycle is underway after this November's midterm elections.
He went on to suggest that voters should leverage their power by asking for candidates who focus on issues of primary importance. For instance, he said that the Russian-Ukrainian conflict is not as important as the increasing cost of fuel. Carlson also said that climate change and transgender issues were not of great importance.
The news host stressed that family should be the top priority in people's lives.
"Children are the main source of joy and meaning in the human life. Period," Carlson asserted. The main question Republican leaders should focus on answering is, he said, "Can your children grow up in a country pretty much like the one you grew up in?"
The FAMiLY Leadership Summit was established by The FAMiLY Leader (TFL), a group that was first launched in 1996 as the Iowa Family Policy Center "through Dr. James Dobson's vision of local organizations in each of America's 50 states advocating for righteous, God-honoring public policy."
According to the FaMiLY Leader's website, the group seeks to "strengthen families, by inspiring Christ-like leadership in the home, the church, and the government."
Photo courtesy: ©Getty Images/Rich Polk/Stringer
---
Milton Quintanilla is a freelance writer and content creator. He is a contributing writer for Christian Headlines and the host of the For Your Soul Podcast, a podcast devoted to sound doctrine and biblical truth. He holds a Masters of Divinity from Alliance Theological Seminary.