JoJo Siwa's Mom Addresses Candace Cameron Bure Incident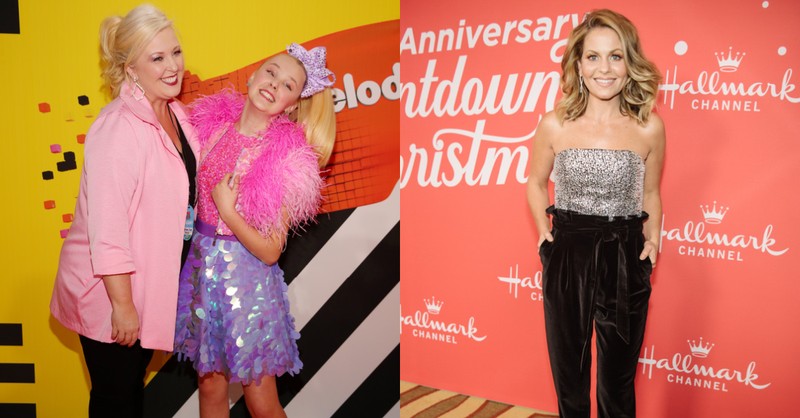 Jessalynn Siwa, the mother of YouTuber and former reality star JoJo Siwa, addressed the recent drama surrounding Full House star Candace Cameron Bure. The drama began when JoJo called Bure the "rudest celebrity" she had ever met in a now-viral TikTok video.
Jessalynn, the founder of Bling Bitz Rhinestones, posted a video addressing the situation on Instagram on August 1.
"I talked about this on my podcast a while back," she wrote in the caption. "The recent story told wasn't quite right, so here is the real version. At the end of the day, this story it's not about a simple photo it's about how you treat people. Real, genuine kindness always goes a long way. It's super easy to quote a Bible verse when everyone is looking at you, but morals are what you have when no one is looking."
In the video, Jessalynn shared that she and JoJo were huge fans of Bure, who played D.J. Tanner in the hit 90s sitcom Full House, and recalled her daughter's experience meeting Bure during the Fuller House premiere.
"It was awesome and quaint," Jessalynn explained. "There's not a lot of people there. All of the people from the show are there, and they show you two episodes. It was so fun. After that, we were all upstairs on the balcony. Uncle Jesse [John Stamos] was there, Joey [Dave Coulier] and Stephanie [Jodie Sweetin], and everyone was taking pictures. It was amazing."
"It was kind of crowded because it wasn't a huge theater where they had a lot of people," she added. "Then JoJo ran into D.J. and was like, 'Oh, my God, I love you so much. Can we please take a selfie?' And she was like, 'Not now. Maybe later.' Word for word. 'Not now, maybe later.'"
According to E! News, Jessalynn said the moment has stuck with her and her daughter all of these years. She also recalled telling JoJo to return the favor to Bure when both stars were guests on The Kelly Clarkson Show in 2019.
"I go, 'If she even asks you for a picture, please say: 'not now, maybe later,'" Jessalynn said. "She just couldn't be bothered. I do not know what was going on, but it is funny when you don't know, and somebody treats you like that. And it is hard to be a celebrity, I will give that to you. But that was so long ago, and I still remember it."
As reported by Yahoo News, Bure was also recently criticized by musician Matthew Koma, who is married to actress Hillary Duff. Koma took to TokTok to call Bure out after she posted a celebratory Fourth of July TikTok video featuring the song "Born in the U.S.A." by Bruce Springsteen.
"I mean, c'mon, would you expect anything less from me?" Bure, who was dancing and wearing red, white and blue, said in the clip. "Happy Fourth of July!"
Koma, a member of the band Winnetka Bowling League, explained that the song has nothing to do with the Independence Day holiday.
"Yeah, that, the song you're playing? Yeah, it's about veterans coming home from Vietnam and being treated like s–t. Yeah, it's not about the Fourth of July," he said in a reaction video on TikTok.
Bure responded to the criticism by publically apologizing to JoJo and reminding her fans of the weight our words carry.
She also took to her Instagram stories to share Isaiah 12:2 with her followers. She said, "The Lord is my salvation. I will trust Him and not be afraid, for He alone is my strength and my defender."
"He has become my salvation," she concluded.
Photo courtesy: ©Christopher Polk/Staff, ©Morgan Lieberman/Stringer
---
Milton Quintanilla is a freelance writer and content creator. He is a contributing writer for Christian Headlines and the host of the For Your Soul Podcast, a podcast devoted to sound doctrine and biblical truth. He holds a Masters of Divinity from Alliance Theological Seminary.