Mennonite Church USA Passes Resolutions Affirming Same-Sex Marriage, Committing to LGBTQ Inclusion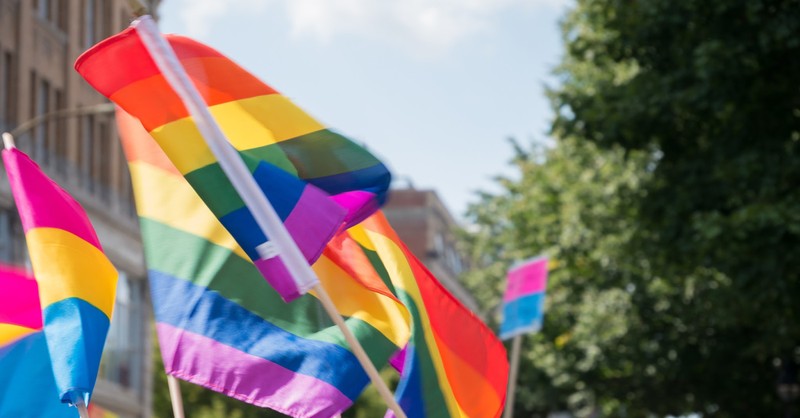 Mennonite Church USA recently passed resolutions calling for the denomination to commit to making the nation's largest Mennonite denomination inclusive to LGBTQ people.
In late May, the governing body of the Mennonite Church USA passed three resolutions committing to LGBTQ inclusion, including repealing a previously placed rule banning pastors from officiating at same-sex weddings.
According to Religion News Service, on May 29, during a special assembly in Kansas City, Missouri, the denomination passed a resolution stating that they have committed "violence against LGBTQ people" and are now committed to LGBTQ inclusion. The resolution passed with a vote of 55.7 percent.
The denomination also passed a motion, called the Resolution for Repentance and Transformation, repealing a guideline that previously barred pastors from officiating at same-sex marriages. According to RNS, nearly 83 percent of the delegates at a special assembly voted to repeal the ban on the ordination of same-sex marriages.
"Excluding LGBTQIA people from the church is a rejection of God's joyous delight in the diversity of creation and a denial of the Divine image and breath animating all humankind," the resolution states.
The motion also calls for an LGBTQ constituency group to be formed, for denominational resources to be created for local congregations about repentance and reconciliation and for LGBTQ people to be celebrated in future theological statements.
According to ordained Mennonite pastor and Ph.D. student Isaac Villegas, the Mennonite Church USA initially barred same-sex marriages as a compromise in a dispute on whether LGBTQ individuals should be excluded from congregational membership.
"That compromise decision began this pattern of harm against LGBTQ people, because they became bargaining chips for the unity of the denomination," Villegas explained.
In 2016, Villegas resigned from the church's executive board after he officiated same-sex weddings.
In November 2015, the Lancaster Mennonite Conference, the denomination's largest and most traditional conference, voted to remove its 179 churches from the Mennonite Church USA due to concerns that the denomination's support for same-sex marriage was growing.
Despite approving the new resolution on same-sex weddings, the denomination's official confession still affirms that God designed marriage to be between one man and one woman.
"Mennonites have a tendency to stack confessions," Glen Guyton, the denomination's executive director, explained. "So we don't necessarily get rid of one or revise them. We create new ones that reflect who we are at a certain period of time."
He added that the latest resolution is more symbolic than anything as it will not be forced on local congregations and conferences.
"This action, and I say this carefully, is more symbolic in some ways than it is indicative of actual changes that are going to happen at the congregational or conference level," Guyton said. "But it is a big symbol, I think, for many."
During the assembly, which occurred between May 27-30, several delegates warned that the resolution would cause division within the denomination, Anabaptist World reports.
"We need both the traditional and the progressive. We cannot do this work if we don't have both," Dwight McFadden of Millersburg Mennonite Church in Ohio said.
Villegas, however, says that the resolution is indicative that the Mennonite Church USA is now "a pro-LGBTQ denomination."
"As a national denomination, we now say that we are a pro-LGBTQ denomination. That is our position," he asserted.
Related:
Over 60 Methodist Theologians Sign Statement to 'Retrieve the Riches' of Wesleyan Tradition amid LGBT Debate
35 Arkansas Churches Consider Leaving UMC over LGBT Debate
107 Florida Methodist Churches to Leave the UMC, Join Conservative Alternative

Photo courtesy: ©Getty Images/Christian Ouellet
---
Milton Quintanilla is a freelance writer and content creator. He is a contributing writer for Christian Headlines and the host of the For Your Soul Podcast, a podcast devoted to sound doctrine and biblical truth. He holds a Masters of Divinity from Alliance Theological Seminary.