'The Church Is Supposed to Direct the Government': Colorado Rep. Lauren Boebert under Fire for Seemingly Promoting Theocracy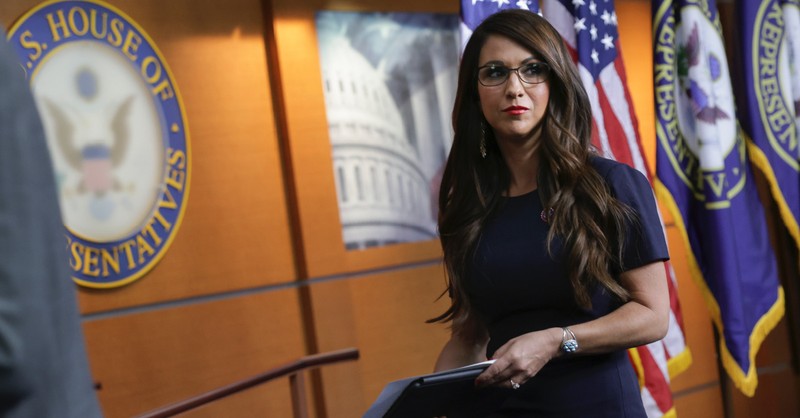 U.S. Congresswoman Lauren Boebert is facing backlash after she allegedly promoted a theocratic government while speaking at Cornerstone Christian Center in Basalt, Colorado, on Sunday.
"The church is supposed to direct the government. The government is not supposed to direct the church," Boebert told the congregation. "That is not how our founding fathers intended it, and I'm tired of this separation of church and state junk that's not in the Constitution. It was in a stinking letter, and it means nothing like what they say it does."
According to ChurchLeaders.com, Boebert's remarks were criticized on social media.
"Lauren Boebert went full theocracy and proclaimed, 'The church is supposed to direct the government' per the founding fathers." tweeted PatriotTakes.
In a subsequent tweet, they added, "This is Christian nationalism."
This is Christian nationalism.

If you're able to support us in monitoring the right wing, please consider a retweet and a small donation. Your support is always appreciated.https://t.co/YuoAYhX3lt

— PatriotTakes 🇺🇸 (@patriottakes) June 27, 2022
The letter Boebert was referring to was written by Thomas Jefferson, the third president of the United States, to the Danbury Baptist Association, addressing the group's concerns about religious liberty.
"Believing with you that religion is a matter which lies solely between Man & his God, that he owes account to none other for his faith or his worship, that the legitimate powers of government reach actions only, & not opinions," Jefferson wrote in his letter. "I contemplate with sovereign reverence that act of the whole American people which declared that their legislature should 'make no law respecting an establishment of religion, or prohibiting the free exercise thereof,' thus building a wall of separation between Church & State."
While the phrase "separation of church and state" is not written in the Constitution, the concept is widely believed by many to be rooted in the First Amendment's Establishment Clause, which prohibits the government from establishing an official national religion or creating laws that explicitly favor or benefit one religion.
"Congress shall make no law respecting an establishment of religion, or prohibiting the free exercise thereof," the First Amendment states.
During her comments on Sunday, Boebert also praised the Supreme Court's reversal of Roe v. Wade, which leaves the issue of abortion in the hands of state lawmakers, and commended former President Donald Trump for appointing three conservative justices to the nation's high court.
"He was anointed for that position," Boebert said of Trump.
Boebert, who is up for re-election this November, criticized churches across the U.S. for not taking a stand against government regulations during the COVID-19 pandemic, including restrictions on in-person church gatherings.
The Republican congresswoman contended that the nation is not meant to have its liberties restricted.
"I believe that there are two nations that have been created to glorify God. Israel, whom we bless, and the United States of America. And this nation will glorify God," she said.
Just as Queen Esther risked her life and broke the law to save God's people, Boebert urged the church to obey God's commands, even if it meant defying government regulations.
"This isn't about Republican and Democrat," she said. "This is about good and evil. This is about right and wrong."
"We have a country to save, and God is using us to do it," she added.
Related:
Rep. Lauren Boebert Jokes That Jesus Was Killed Because 'He Didn't Have Enough' AR-15s

Photo courtesy: ©Getty Images/Kevin Dietsch/Staff
---
Milton Quintanilla is a freelance writer and content creator. He is a contributing writer for Christian Headlines and the host of the For Your Soul Podcast, a podcast devoted to sound doctrine and biblical truth. He holds a Masters of Divinity from Alliance Theological Seminary.