Pastor John Gray Admitted to Hospital with Life-Threatening Blood Clot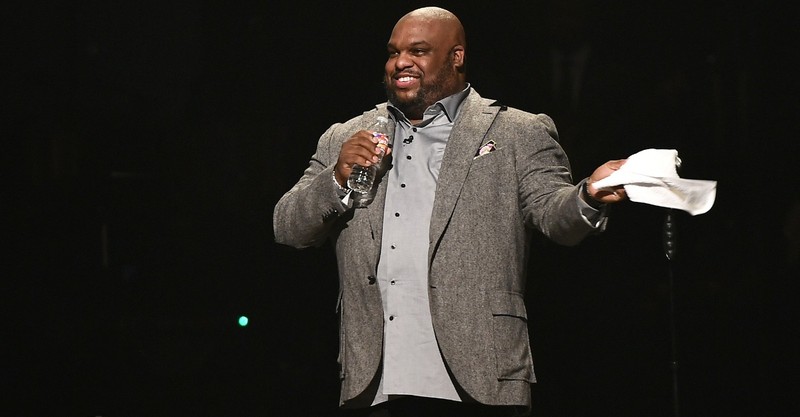 Aventer Gray is asking for prayers for her husband, megachurch pastor John Gray, after he was admitted into the hospital with several blood clots and a life-threatening pulmonary embolism.
"My family and I stand in need of a miracle. Please keep my husband, John Gray, in your prayers," Aventer wrote in an Instagram post on Sunday.
"After feeling a little different over the past couple weeks, he went to the ER on Thursday evening and was immediately admitted to CCU (critical care unit) with a saddle Pulmonary Embolism in the pulmonary artery and more lung blood clots," she added.
According to Aventer, the embolism is in such a dangerous position that John is not allowed to move for fear that the clot will shift.
According to the Mayo Clinic, a pulmonary embolism occurs when a blockage, often a blood clot, travels to the lungs from a deep vein and blocks a pulmonary artery, restricting blood flow to vital organs. Further, the National Library of Medicine says that a saddle pulmonary embolism "represents a large clot and a risk for sudden hemodynamic collapse." Hemodynamic collapse is the failure of the body's circulatory system.
"The Saddle PE is in a position that could potentially end his life if it shifts at all. The clot burden is severe, and only God is holding it in place," she said before noting that John is currently in the CCU and facing two surgeries.
"To place this in perspective, the doctor said that people have come into the hospital dead with this exact scenario he walked in with," she added before asking for prayers.
"I need as many people who believe in the miracle healing power of Jesus Christ to join me and my family and our church as we cry out on behalf of John W. Gray III," Aventer wrote. "I'm rocking with God, Relentlessly!"
According to The Christian Post, John, 49, is the lead pastor of Relentless Church. The church has two campuses, one in Greenville, South Carolina and another in Powder Springs, Georgia.
Aventer and John also addressed John's condition in a video message to their church on Sunday.
"My husband is fighting for his life right now. And I have no idea how I'm able to sit here in front of a camera and speak to you other than the God that I serve," Aventer said in the video.
"I know that in this moment, God is saying that this blood clot that has come to my husband may be here to add to his testimony, but it does not have permission to take him out. He's God's son. Only God has permission to speak a thing and to act on it," she added.
Aventer then highlighted the severity of the clot by revealing that if the clot moved too far in one direction or the other, it could kill John.
"I initially felt helpless and lost, and then I remember you can add to the testimony, but you can't take his life. That's my husband, but that's God's son. That's my children's father, but that's God's son … he's your pastor, but he belongs to God," she asserted.
She then pointed to God, noting that only he could be holding the clot – which is blocking 50 percent of John's pulmonary artery – in place.
"My husband's work isn't done. In fact, the work that he's done, he's done broken. What can He do with the delivered and healed man? I can't wait to see it," she concluded.
Near the end of the service, John himself spoke to the church, saying, "If the devil thought he was afraid of me before this, when I come up out of here? That's all I got to say."
He added, "And I need you to hear me even as they try to get me to this next hospital for this procedure. I go in the confidence of the God that I serve. I go with the prayers of my beloved church, and I go with the surety that what He's started in me He is faithful to complete."
John then asked the congregation to give graciously to the church during this time, before adding, "I believe God for complete healing. It has been the great honor of my life to pastor this church. I say this as you all are sowing today. I want you to sow at a level of faith and a level of expectation you've never had before because I can tell you that this was an illegal transaction from Hell. And it will not stand. And since the enemy tried to steal my life, he owes me sevenfold. … What's on me is on the house. So I declare from this bed that not only will I live and not die, you shall live and not die."
Photo courtesy: ©Getty Images/Marcus Ingram/Stringer
---
Kayla Koslosky has been the Editor of ChristianHeadlines.com since 2018. She has B.A. degrees in English and History and previously wrote for and was the managing editor of the Yellow Jacket newspaper. She has also contributed to IBelieve.com and Crosswalk.com.