Terrorism & Tension: 2015's Most Important Christian News Stories
Veronica Neffinger

iBelieve Contributor

2015

21 Dec

COMMENTS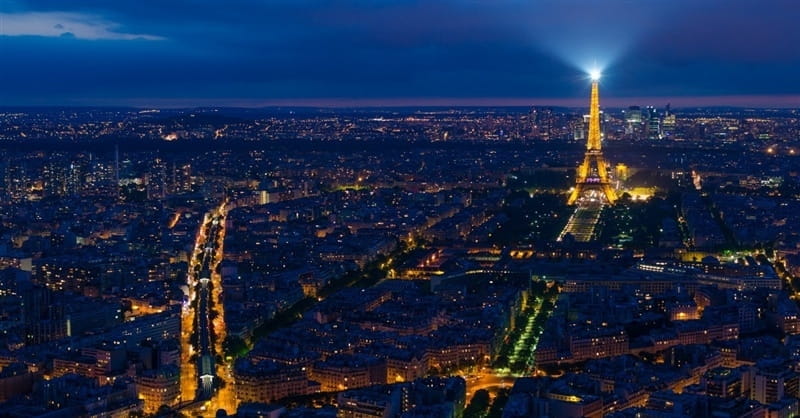 The year 2015 has seen many major events. From the tragedy of the Paris terrorist attacks to the Supreme Court's gay marriage decision, to the rise of ISIS, the world and culture have seen some pronounced shifts. As the year draws to a close, it may be helpful to reflect on the events of recent history. Below are the top 12 news stories of interest to our Christian audience in 2015.
1. The Paris Terrorist Attacks
The attacks in Paris on the evening of November 13 which took the lives of over 120 people were a major shock to the world. Shortly after the attacks which took place at the Bataclan theatre, the Stade de France, and various cafes and restaurants in the city of Paris, radical terrorist group ISIS claimed responsibility. French President Francois Hollande called the attacks "an act of war." Eight of the attackers were found and killed by police.
Earlier in 2015, in January, France suffered another terrorist attack on the satirical magazine Charlie Hebdo. Twelve people were killed. Terrorist group al-Qaeda claimed responsibility for the attack, and stated that the magazine was targeted for featuring cartoons of the Prophet Muhammad.
2. The San Bernardino Shooting
Less than a month after the Paris attacks, extremists attacked a nonprofit community agency while staff members attended a holiday party. Fourteen people were killed in the attack and 17 were injured. Perpetrators of the attack were suspected radical Muslims and married couple Syed Rizwan Farook and Tashfeen Malik. Both Farook and Malik were killed in a shootout with police. 
This shooting--the 355th of the year--fueled the debate on gun control more than ever. Some, like Liberty University President Jerry Falwell, Jr., called for more people to possess concealed carry permits, while the left has called for stricter gun control laws. The San Bernardino shooting also caused a debate over whether prayer is an effective way to deal with a tragedy. 
3. Nepal Earthquake
On April 25, 2015, a massive earthquake with a magnitude of 7.8 devastated the country of Nepal. Over 6,200 people lost their lives. The earthquake also caused avalanches on Mount Everest which created more destruction. Many humanitarian organizations such as the Red Cross sent aid to the victims. Hospitals and morgues in the country filled to capacity as more people were discovered buried in the rubble. An estimated $2 billion was said to be needed to rebuild homes and businesses.
4. ISIS (radical Islam and persecution of Christians)
The rise of ISIS was detailed in last year's Top 12 Christian News Stories, and 2015 has not seen a decrease in the terrorist organization's power. From claiming responsibility for the Paris attacks to driving minorities out of their homelands, to brutally murdering those who oppose them, ISIS has been a force to contend with.
Minorities such as Christians and Yazidis have experienced particular violence from the Islamic State. They have been driven from their homes, forced to pay high taxes if they do not convert, and in many cases, brutally killed by crucifixion, beheading, or other violent measures.
Many have called for ISIS' persecution of Christians and other minorities to be recognized as genocide and for action to be taken to stop the violence. Pat Robertson stated that the beheadings and other violence perpetrated by ISIS shows that "Islam [is not] a religion of peace. Islam does not mean 'peace', it means 'submission." 
5. Gay Marriage Supreme Court Decision and Backlash
In a landmark decision, on June 26, 2015 the Supreme Court ruled in a 5-4 decision that homosexual couples have the right to marry anywhere in the country. 
While many lauded the decision as evidence of America's changing attitude toward homosexuality and gay marriage, many others firmly opposed the decision, including many evangelical leaders as well as Republican presidential candidates.
"With all due respect to the court, it did not define marriage, and therefore is not entitled to re-define it," stated Franklin Graham. Russell Moore, president of the Ethics & Religious Liberty Commission of the Southern Baptist Convention, urged Christians not to despair and reminded them that God is still in control.
Some, such as Kentucky county clerk Kim Davis, took a stand against the Supreme Court's decision by refusing to issue marriage licenses to same-sex couples. Davis was briefly jailed for her refusal to comply with the law. She quickly became a symbol for many who disagreed with the new law.
6. Charleston Church Shooting and Ensuing Confederate Flag Debate and Racial Tension
On June 17, 2015,  gunman Dylann Roof opened fire on Emanuel African Methodist Episcopal Church in Charleston, South Carolina, killing nine people. The shooting was labeled a hate crime by police, as the church is an historically black church.
After the shooting, many members of Emanuel African Methodist Episcopal Church and families of the victims said they forgave the shooter. Racial tensions escalated after the shooting, however. The shooting also sparked a heated debate about the display of the Confederate flag on the property of public buildings. The South Carolina Senate voted 37-3 to remove the Confederate flag from Statehouse grounds. 
7. The Refugee Crisis
The violence perpetrated by the Islamic State has caused a massive exodus of Middle Easterners who are fleeing to the West in search of safety. This has led to heated debate between those who believe compassion should be the predominant response and those who believe the infiltration of refugees could be part of ISIS' plan to gain control of other parts of the world and carry out more terrorist attacks, and thus nations should tighten their security measures.
At least three of the perpetrators of the Paris terrorist attacks were discovered to have forged Syrian passports, which led to further debate about the vetting process of refugees.
Although some governments are proceeding with caution in the refugee crisis, many religious leaders have called on the Church to extend compassion. 
8. Planned Parenthood Videos
The Center for Medical Progress released a series of undercover videos which reportedly show Planned Parenthood officials haggling over the sale of fetal body parts obtained through abortions. The sixth video released even shows a former Planned Parenthood technician testifying that she was told to extract fetal body parts even without the mother's consent.
The undercover videos caused outrage around the nation. Planned Parenthood was called to task for the accusations against them when Planned Parenthood president Cecile Richards was brought to trial in Congress.
Although Planned Parenthood claims to be innocent of the charges brought against them, the backlash from the videos has sparked revival in the pro-life movement. Many state governors have also put forward legislation to defund Planned Parenthood, and a bill to defund the abortion provider has even passed in the House and the Senate; however, Obama vowed to veto the bill.
9. The Presidential Election
The 2016 election has shaped up with a large field of candidates: 14 Republicans and three Democrats. While Hillary Clinton has been the frontrunner among the Democratic candidates, political outsider Donald Trump has garnered strong support among many Republicans. 
Although popular for his pro-American rhetoric and promises to secure the border and strengthen the country, the billionaire businessman has also been accused by many of lacking true substance and not being a serious candidate.
Other current frontrunners include neurosurgeon Ben Carson, as well as Florida Senator Marco Rubio and Texas Senator Ted Cruz. The Republicans recently concluded their final debate of 2015 on Tuesday, December 15.
10. The Duggar Scandal
The Duggar family, popular stars of TLC's show "19 Kids and Counting," made headlines in 2015 when it was revealed that oldest son Josh Duggar molested five young girls as a teenager. A couple months later, a hack into adultery website Ashley Madison revealed that Duggar had an account with the website. Duggar reportedly checked into a rehab clinic to deal with his sexual addiction.
However, the Ashley Madison hack revealed that other notable Christian leaders also had accounts on the website. Some, like R. C. Sproul Jr., admitted to having an account with the website but claimed not to have acted on it.
11. The Baltimore Riots
Fierce riots, spurred on by racial tensions, erupted in Baltimore, Maryland after 25-year-old African-American Freddie Gray died one week after being taken into custody by police. At least 15 police officers were injured in the riots, which included burning of buildings and cars. Maryland Governor Larry Hogan declared a state of emergency for the city and enacted a curfew. 
Over 100 clergy members marched for peace amidst the riots. "Last night, pastors met with gang leaders so that we could start rebuilding with our community and give some safe haven. To burn down a CVS and burn down a senior community center does not reflect the legacy of Freddie Gray or the movement that we've been a part of this week," stated Rev. James Bryant, who gave the eulogy at Gray's funeral.
12. Christian-targeted Shootings
Two major shootings in 2015 had Christians as specific targets. The first happened in Kenya at Garissa University College. One hundred forty-seven people were killed and another 100 injured in the deadly massacre by al-Shabaab terrorists. The terrorists reportedly separated the students by their faiths--and targeted Christians. Ninety-five Kenyan public schools shut down in the wake of the Garissa University attack, fearing another massacre.
The second shooting which specifically targeted Christians occurred at Umpqua Community College in Roseburg, Oregon where the shooter killed nine people. Witnesses reported that the shooter asked victims if they were Christian before he shot them. In response to the Christian-targeted massacre, the hashtag #YesImAChristian was trending on social media in support of those who stood up for their faith. 
Evangelist Franklin Graham also urged boldness for those who hold the Christian faith: "Here's what I know we can do," stated Graham: "Like the courageous men and women at Umpqua Community College, in Roseburg, Oregon, we can stand up for our faith by unashamedly confessing Jesus Christ. They knew they would be killed when they stood and faced the gunman, and they stood anyway."
Notable Christian Films of the Year
2015 saw an increase in the release of Christian films which did well at the box office. War Room, about the power of prayer, made $11 million in sales in its opening weekend and remained popular for weeks. 90 Minutes in Heaven also tackled Christian themes with the story of Don Piper who gets to briefly experience heaven after suffering a car accident. Woodlawn, a film which tells the story of how a high school football team learns to overcome racial tension during the desegregation era, also was a favorite with fans and critics, making $4 in its opening weekend. The Drop Box is yet another film with the Christian-themed message. This film is a documentary and communicates the value of all human life. The film Do You Believe also tackled faith-related topics as it tells the story of 12 characters whose lives intersect. Lastly, the film Captive, although a very real story of drugs and violence, communicates that redemption is possible, even in the unlikeliest of circumstances.
In Memoriam
A few well-known Christian figures went home to the Lord in 2015.
Photo courtesy: Wikimedia Commons
Publication date: December 21, 2015
Veronica Neffinger wrote her first poem at age seven and went on to study English in college, focusing on 18th century literature. When she is not listening to baseball games, enjoying the outdoors, or reading, she can be found mostly in Richmond, VA writing primarily about nature, nostalgia, faith, family, and Jane Austen.