Tim Tebow to Co-Produce First Theatrical Film, Run the Race
Lovell-Fairchild Communications

Updated

Aug 15, 2018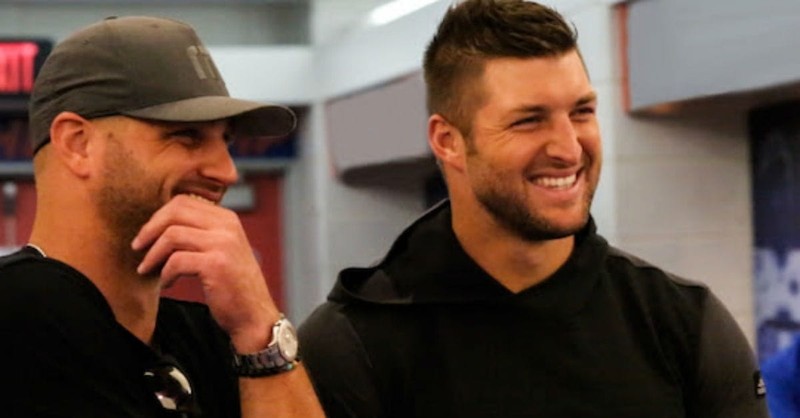 NASHVILLE, TENN. – August 15, 2018 – Heisman Trophy winner, national champion and NFL veteran, and professional baseball player Tim Tebow can now add "filmmaker" to his impressive list of accomplishments. Tebow and his brother Robby are executive producers of the new film RUN THE RACE, telling the inspiring, fictional story of two high school athlete brothers who see their relationship tested as they seek different paths out of their troubled lives.
"RUN THE RACE is about so much more than football. This is a story about overcoming the hard issues of life, about the power of sacrifice, the power of family, and the power of forgiveness," Tim Tebow said. "I love being a part of a project like this because it will impact lives, inspire hope, and even prompt action. When I read the script, I knew this was an important project to get behind."
"The script pulled me in right away, and I wanted to bring it to life cinematically," Robby Tebow said. "As somebody with brothers in a big, super-close family that has gone through a lot together, it resonated with me on a deep level."
RUN THE RACE marks the Tebow brothers' first foray into feature films.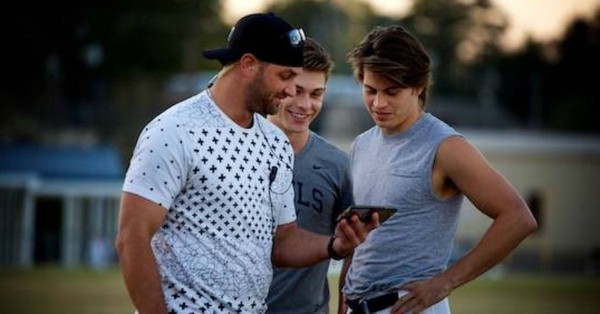 L to R: RUN THE RACE executive producer, Robby Tebow, with actors Evan Hofer and Tanner Stine. (Courtesy of Run the Race Productions, LLC)
"RUN THE RACE is about two young brothers facing unbelievable odds with an unbreakable bond," said creator Jake McEntire, who co-wrote the script,. "I believe audiences will resonate with this uplifting story of faith, sacrifice and hope."RUN THE RACE stars Mykelti Williamson (FENCES, FORREST GUMP) as the boys' coach, Frances Fisher (TITANIC, UNFORGIVEN) as their surrogate mother, Tanner Stine (NCIS, HBO's Here & Now) as Zach and Evan Hofer (Kickin' It) as David. Supporting cast includes Kristoffer Polaha, Mario Van Peebles and Heisman-winner Eddie George, along with many others.  From Reserve Entertainment and 10th Leper Productions, the film is produced by Darren Moorman, Jake McEntire and Ken Carpenter; directed by Chris Dowling (WHERE HOPE GROWS); and co-written by McEntire, Dowling, and Jason Baumgardner.
Synopsis
In RUN THE RACE, two desperate brothers sacrifice today for a better tomorrow.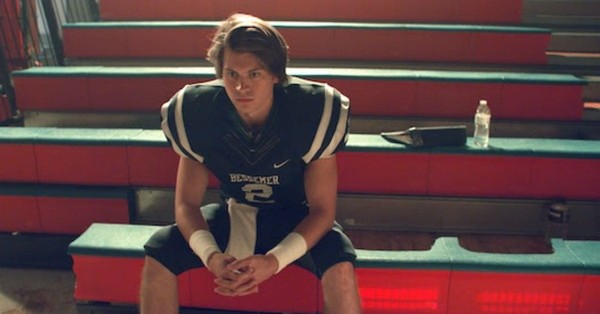 Star high-school quarterback Zach Truett (Tanner Stine) calms his nerves before taking the field in RUN THE RACE. (Courtesy of Run the Race Productions, LLC)
Reeling from his mother's death and his father's abandonment, Zach, an All-State athlete, finds glory on the football field, working to earn a college scholarship and the brothers' ticket out of town.
When a devastating injury puts Zach—and his dreams—on the sidelines, David laces up his track cleats to salvage their future and points Zach toward hope.  
RUN THE RACE shows what's possible when you run to—instead of from—the love of God.
NFL legend Eddie George (THE BEST MAN) appears as a college recruiter. He found that the movie's background of athletics created the perfect context for a story about the brothers' struggles and relationship.
"Sports really is a microcosm of how life is," George said. "Somebody's going to deal with adversity. Somebody's going to deal with loss. Somebody's going to deal with pain. Somebody's going deal with victory and success. I think this film reflects that."
"We set out to make a film that engages the YA crowd while retaining a universal, timeless appeal,". said director Chris Dowling (WHERE HOPE GROWS).  "Young adults crave stories built on authenticity and we deliver with real characters having real conversations about love, family and trying to find his or her place in this sometimes crazy world."
"Everyone involved with RUN THE RACE can't wait to get this feature film in theaters," said Producer Darren Moorman. "I want everyone to experience this authentic movie that tackles relevant themes in an entertaining way, where the romance is whimsical, the struggles are real, but the story-telling is fresh and poignant."
Principal filming on RUN THE RACE was in Birmingham, Alabama. In addition to Robby and Tim Tebow, executive producers include Bill Reeves, Erik Weir, Trey Brunson, Joe Kosakowski and Erik Dellenback.
"RUN THE RACE is in its final stage of post-production," Reeves said, "Theatrical distribution and release date will be announced soon."
---
Find out more at RuntheRaceMovie.com.
About Reserve Entertainment
Reserve Entertainment acquires, develops and produces high-quality, strategically-budgeted feature films and TV for studios like Paramount Pictures (SAME KIND OF DIFFERENT AS ME), Lionsgate (Mark Hamill's Pop Culture Quest) and Provident Films (INDIVISIBLE). Reserve Entertainment believes the best cinematic stories, which consistently appeal to broad and loyal audiences, not only entertain but build up and celebrate the human spirit. For more information, go to http://reserveentertainment.com
About The WTA Group

The WTA Group is a leader in faith-based film marketing and financing, home entertainment representation and consumer product licensing. Founded in 2009, WTA and its team has led the faith audience marketing campaigns for talented filmmaking clients including Stephen and Alex Kendrick (WAR ROOM and No. 1 New York Times best-seller The Love Dare), Sony/AFFIRM Films (MIRACLES FROM HEAVEN), Pure Flix Entertainment (GOD'S NOT DEAD), Compass Cinema (IS GENESIS HISTORY?) and The Christian Broadcasting Network (IN OUR HANDS: THE BATTLE FOR JERUSALEM). The company's author and writer roster includes Charlie Daniels (Country Music Hall of Fame Member, Grand Ole Opry Member), Dr. Michael L. Brown (radio host and best-selling author) and Randy Alcorn (New York Times best-selling author). For more information, visit www.thewtagroup.com
Photo Courtesy: Run the Race Productions, LLC