Wednesday, November 17, 2010
Is It Ever Okay to Judge?
Do you not know that the saints will judge the world? And if the world will be judged by you, are you unworthy to judge the smallest matters?—1 Corinthians 6:2
Is there a place for judging? Are we to judge one another, and if so, on what basis? Jesus said, "Judge not, that you be not judged. For with what judgment you judge, you will be judged; and with the measure you use, it will be measured back to you" (Matthew 7:1-2). The Greek word Jesus used for "judge" means, "to separate, choose, select, or determine." In context, we see that Jesus is dealing primarily with motives. You cannot judge my motives, nor can I judge yours. We may have an evaluation of someone, but we can't see his or her heart.
The better translation of this statement would be, "Condemn not, that you be not condemned." I am to make judgments and evaluations, but I am not to condemn. Some people are hypercritical. They are just looking for people to slip up. They are quick to jump to conclusions. As one of my favorite preachers, the late J. Vernon McGee, said, "The only exercise some Christians get is jumping to conclusions and running down others."
Sometimes we are quick to jump to conclusions and quick to believe the worst instead of the best about someone. Jesus is saying we should not do that. So if someone says to you, "Well, doesn't the Bible say, 'Judge not, that you be not judged'?" your response should be, "Yes, but I don't think you understand the meaning of that statement." The reality is that Christians are to make judgments. A judgment is an evaluation, and we make them every day.
We are not in a position to see a person's heart, and we are not in a position to bring final judgment on someone. Our objective is to never to condemn and put down; it is to help and restore.
Copyright © 2010 by Harvest Ministries. All rights reserved.
Scripture taken from the New King James Version. Copyright © 1982 by Thomas Nelson, Inc. Used by permission. All rights reserved.
For more relevant and biblical teaching from Pastor Greg Laurie, go to www.harvest.org
and
Listen to Greg Laurie's daily broadcast on OnePlace.com.
Watch Greg Laurie's weekly television broadcast on LightSource.com.
SPECIAL OFFER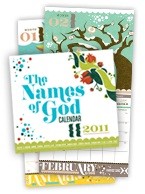 Use this gift to keep teaching and proclaiming the gospel.
Presented with fresh and encouraging illustrations each month, our hope is that you will not only learn the names of God contained in the Bible… but that each name's meaning would give you the comfort, the security, and the peace to know that God is with us and is involved in our world.
You can have your own copy of The Names of God 2011 Calendar in appreciation for your gift to Harvest Ministries this month.