What Does the Bible Have to Say about Laughter?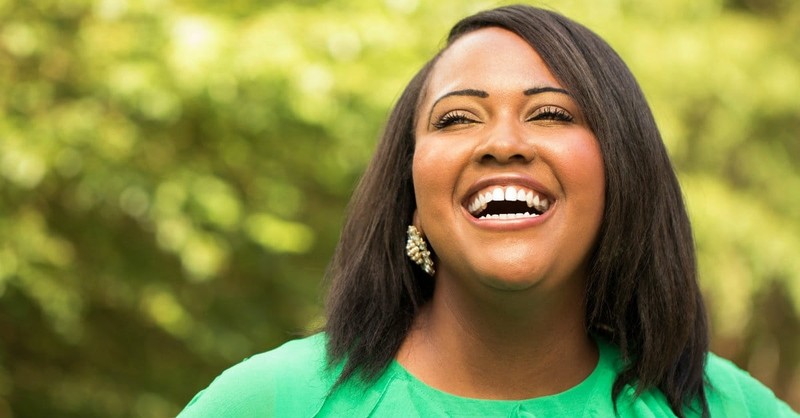 Laughing Matters
She is clothed with strength and dignity;
she can laugh at the days to come.
Proverbs 31:25
A verse with the word laugh? Yes, please.
The excellent woman described in Proverbs 31 certainly fig­ured out the value of laughter. That's how she remained carefree, even with everything she had on her plate.
She is clothed . . . <><>Proverbs 31:25
It's often the first thing we notice about a woman—her "clothing" (ESV), "her garments" (ISV). Our Proverbs 31 sister may be dressed for suc­cess, but she's not dressed for battle.
Fresh out of college my friends and I wore business attire as if it were a suit of armor when we headed out to slay the dragons of the corporate world. Case in point. In the deep recesses of my desk, I found a pad of sticky notes from the eighties, featuring a career woman's checklist for success: "Look like a lady. Act like a man. Work like a dog."
We've since learned it's who we are rather than what we wear that leads to genuine success. And it's what we do for others that truly matters in the end. As author Kate Halverson famously said, "If you are all wrapped up in yourself, you are overdressed."
. . . with strength . . . <><>Proverbs 31:25
This Proverbs woman knew what to wear. She not only wore her own fabulous handmade creations, but she also wore strength and dig­nity like a shield, "as if they were her clothes" (NIRV).
The Hebrew word oz means "strength, might." This doesn't suggest we're to be strong willed to the point of stubbornness. Just the opposite. Strong enough to be flexible, without fear of losing control, knowing our "position is strong and secure" (AMP). It's the strength of the Lord that empowers us. "The Lord is my strength and my shield; my heart trusts in him, and he helps me."1
If Nehemiah 8:10—"the joy of the Lord is your strength"—is a source of encouragement to you, here's the rest of the story on that verse. After God's people were exiled in Babylon, they returned to Jerusalem and celebrated with a feast not unlike our Thanksgiving. Nehemiah said, "Go and enjoy choice food and sweet drinks, and send some to those who have nothing prepared. This day is holy to our Lord. Do not grieve, for the joy of the Lord is your strength."
Again we find strength and joy in a single verse. God's mighty power walks side by side with His mighty joy.
. . . and dignity; . . . <><>Proverbs 31:25
How would you describe dignity? I'd say it's more about demeanor than social class. The Hebrew word hadar tells us this woman was dressed in "honor, splendor, majesty." Some translations go with "glory" (JUB) or "respect" (ERV).
Put them all together, and you get a sense of what God is calling His daughters to step into: His righteousness. His holiness. Impossible? Not when it's His doing. "I the Lord am holy—I who make you holy."(Lev. 21:8) We're never too old—or too young—to walk in His strength and His splendor.
. . . she can laugh . . . <><>Proverbs 31:25
Imagine being "full of joy" (NLV), someone who's "confident" (CEB) and "cheerful" (CEV), who's not "afraid" (GNT) or "anxious" (EXB). Why merely giggle when you could guffaw? Why simply smile when you can snort?
When I was growing up, my role models were funny women. First I loved Lucy. And Ethel. Then I longed to be Carol Burnett. Or Phyllis Diller, who said, "A smile is a curve that sets everything straight." My list of favorites grew, from Lily Tomlin to Gilda Radner, Madeline Kahn to Tina Fey, proving that women and humor make a fine duo.
Laughing is one way we express our true selves. We may learn how to walk, stand, sit, and eat properly, but when we genuinely laugh, we lay all pretense aside as our carefully polished image goes right out the window. That could be why my grown children like to take me to funny movies, since I invariably honk, howl, or hoot.
Laughter is good for our hearts, souls, and minds. It's a free gift from the Lord. No cost, no calories, no guilt. As comedian Fred Allen said, "It's bad to suppress laughter. It goes back down and spreads to your hips."
Sadly, humor isn't always welcome among God's people. One of my early books received a one-star review with the comment "She is just too silly for a mature Christian!" My heart sank when I read those words until the Lord reminded me that laughter and joy were His idea: "He will yet fill your mouth with laughter and your lips with shouts of joy."(Job 8:21)
So I'm going with His plan.
. . . at the days to come. <><>Proverbs 31:25
A woman of God not only laughs in the here and now; she also "smiles at the future" (nasb) and does so "without fear" (nlt). She's not overly concerned about her children, not frightened about her finances, not freaked out about getting older. She knows that "she and her family are in readiness for it" (ampc) because their lives are grounded in God's truth and wrapped in His love.
When God laughs over His people, the sound is as gentle as His embrace. We may not hear His laughter, but we can sense His pleasure. We won't find LOL in His Word, but we do find the promise "so will your God rejoice over you."4 He's also there to help us when we lose our sense of humor.
As a little kid, I was famous for stamping my foot whenever I threw a full-blown temper tantrum. My older siblings seldom hid their amuse­ment. "Don't laugh at me!" I would fume, looking and sounding even more ridiculous. My brother Tom invariably found a way to make me giggle, then gave me a hug to ease my embarrassment.
God handles us in much the same way, helping us see how truly fool­ish we can be even as He shows us the depth of His joy in calling us His own.
With the Lord holding eternity in His hands, we can look "forward to the future with joy" (ncv). And laughter. And, yes, outright silliness.
Lord, I'm not only laughing at the future;
I'm having a blast in the present.
Help me resist the stern advice of others
to straighten up, to settle down, to get serious.
Let me hear Your gentle laughter
and receive it as a gift of love.
____________
Tip #19 for memorizing Scripture:
Find a photo that suits the verse, creating another way to jog your memory.
<>Proverbs 31:25, NIV
She is clothed with strength and dignity;
she can laugh at the days to come.
Excerpted from 31 Verses To Write On Your Heart. Copyright © 2016 by Liz Curtis Higgs. Published by WaterBrook, an imprint of Penguin Random House LLC.
Liz Curtis Higgs has one goal: to help women embrace the grace of God with joy and abandon. Her messages are biblical, encouraging, down-to-earth, and profoundly funny, helping sisters and seekers experience the depth of God's love. Higgs is the author of more than 30 books with 4.6 million copies in print, including 31 Verses to Write on Your Heart, Bad Girls of the Bible, and It's Good to Be Queen. She has spoken at 1,700 women's conferences in all 50 states and 14 countries. Visit her at lizcurtishiggs.com.
Publication date: October 17, 2016
Image courtesy: Thinkstockphotos.com