Greg Laurie Daily Devotion - June 24, 2010

Thursday, June 24, 2010
The Real Thing
For here we have no continuing city, but we seek the one to come.
—Hebrews 13:14
Isaac Asimov said, "I don't believe in an afterlife, so I don't have to spend my whole life fearing hell, or fearing heaven even more. For whatever the tortures of hell, I think the boredom of heaven would be even worse."
Anyone who understands what the Bible teaches would know that heaven will not be boring. When the Bible describes it, it is portrayed in ways that we can wrap our minds around. Part of the problem is that we have had our ideas about heaven formed by movies, television, songs, paintings, and pop culture. These concepts are not necessarily based on what the Bible teaches, however.
Heaven is an actual place. Jesus said, "I go to prepare a place for you . . . " (John 14:2). We tend to think of Earth as the real thing and heaven as the surreal thing. But it is the other way around. Earth is a pale version of heaven. Earth can be beautiful at times. We see that beauty on display around the world. But at the same time, heaven is far greater. Earth is a pale imitation of greater things to come. As C. S. Lewis said of heaven, "All the things that have ever deeply possessed your soul have been but hints of it. . . . "
Heaven has been described in the Bible as Paradise. Jesus said to the thief on the cross, "Today you will be with Me in Paradise" (Luke 23:43). The apostle Paul used the word "paradise" to describe his brief trip to heaven (2 Corinthians 12:4). The Bible also describes heaven as a city (Hebrews 12:22; 13:14) and a country (Hebrews 11:16).
Heaven is the real thing. And it is the destination of all who have put their faith in Jesus Christ.
Copyright © 2010 by Harvest Ministries. All rights reserved.
Scripture taken from the New King James Version. Copyright © 1982 by Thomas Nelson, Inc. Used by permission. All rights reserved.
For more relevant and biblical teaching from Pastor Greg Laurie, go to www.harvest.org
and
Listen to Greg Laurie's daily broadcast on OnePlace.com.
Watch Greg Laurie's weekly television broadcast on LightSource.com.
SPECIAL OFFER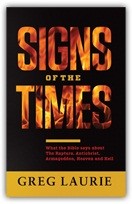 Focused on events right before our eyes...
"I want to send you Signs of the Times in appreciation for your support of Harvest Outreach this month. Why is your support important today? Because I am convinced that the proclamation of the gospel has never been more critical, on the radio, at evangelistic outreach events, online, and through resources like Signs of the Times that are relevant and timely. We preach and teach around the clock... and it is the support of friends like you that make it possible. Your gift helps send out the call to wake up, for the coming of the Lord is near!"
—Pastor Greg Laurie
You can have your own copy of Greg Laurie's Signs of the Times in appreciation for your gift to Harvest Ministries this month.