from Day by Day with the Persecuted Church

The king said to me, "What is it you want?" Then I prayed to the God of heaven and I answered the king," If it pleases the king ... let him send me to the city in Judea ... so that I can rebuild it."
Nehemiah
"Ora and labora" - pray and work. That's what Nehemiah did. Whoever prays for people in need, also does something for them. Prayer always leads to action. Where there is no action there is probably no prayer. Where there is prayer, people automatically become activated.
Those who are unable to go on account of bodily disability or age can pray that God will call others to offer real help. Their prayer sets God and men in movement. Those who have no restrictions, should also have no objections to doing something themselves.
Nehemiah could have invented all sorts of objections. He had a distinguished and trustworthy position in the palace and would be missed. He was also no expert building engineer. He was a waiter, not a carpenter, and carpenters, not waiters, were needed. But Nehemiah did not hide behind his lack of expertise. "He has made us competent" (2 Corinthians 3:6).
Therefore he can say, "Come, let us build the wall of Jerusalem again. The God of heaven will give us success. We his servants will start rebuilding, but as for you, you have no share in Jerusalem or any claim or historic right to it" (Nehemiah 2:17, 20). God sought such builders.
Pray and build. He will prosper you.
Copyright [C] 1995 Open Doors International. Used by permission.
Click here to sign up for a free monthly newsletter from Open Doors about persecuted Christians.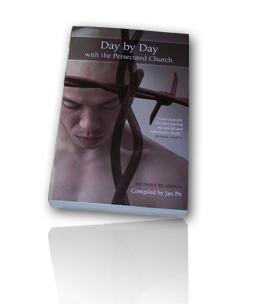 Day by Day with the Persecuted Church
compiled by Jan Pit with a forward by Brother Andrew (paperback, revised 2000)
Compelling wisdom from the pen of actual believers living amidst persecution, you'll be connected to the suffering, courage, and depth of life that exists in the harshest places in the world. Each of these 365 thought-provoking devotions will deepen your understanding of Christian persecution and provoke you to pray for our brothers and sisters with a new found depth.