from Day by Day with the Persecuted Church

The Lord has blessed David in many ways. Unfortunately, success makes David presumptuous.
He takes the Lord's blessing for granted. He is so concentrated on the gift that he forgets about the giver. Prosperity and blessing come from God. Whosoever forgets that trusts in his own strength and performance. David realizes that, and acknowledges his dependence upon God.
David
I will exalt you, O Lord, for you lifted me out of the depths and did not let my enemies gloat over me.
O Lord my God, I called to you for help and you healed me.
O Lord, you brought me up from the grave; you spared me from going down into the pit.
Sing to the Lord, you saints of his; praise his holy name.
For his anger lasts only a moment, but his favor lasts a lifetime; weeping may remain for a night, but rejoicing comes in the morning.
You turned my wailing into dancing; you removed my sackcloth and clothed me with joy,
that my heart may sing to you and not be silent. O Lord my God, I will give you thanks forever.
(Psalm 30:1-5, Psalm 30:11, Psalm 30:12)
Copyright [C] 1995 Open Doors International. Used by permission.
Click here to sign up for a free monthly newsletter from Open Doors about persecuted Christians.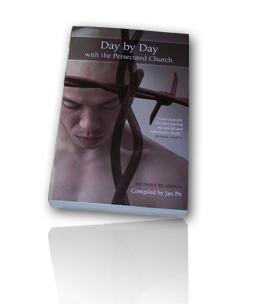 Day by Day with the Persecuted Church
compiled by Jan Pit with a forward by Brother Andrew (paperback, revised 2000)
Compelling wisdom from the pen of actual believers living amidst persecution, you'll be connected to the suffering, courage, and depth of life that exists in the harshest places in the world. Each of these 365 thought-provoking devotions will deepen your understanding of Christian persecution and provoke you to pray for our brothers and sisters with a new found depth.