from Day by Day with the Persecuted Church

And now, dear children, continue in him, so that when he appears we may be confident and unashamed before him at his coming. (1 John 2:28)
Menes Abdul Noor
The Apostle John writes to the "little children" as people who are close to him. They are also close to the Heavenly Father. They are weak and small. They are dependent on Divine grace and care. This is why they should abide in Christ and in His Word. They can trust in Him here and now, and forever.
Jesus has come, born in a manger in Bethlehem. He also comes to us, knocking at the door of our hearts (Revelation 3:20). He comes to those who ask for His help, as He came to His disciples walking on the water to rescue them (Matthew 14:22-33).
He will come again in the last day to judge sinners and take His followers to be with Him forever. If we abide in Him we will await His second coming eagerly.
We hear Him say, "Yes, I am coming soon." And we cry, "Amen. Come, Lord Jesus" (Revelation 22:20).
When He appears, we may have confidence because He saved us and abides in us. We will fall down before Him who sits on the throne and worship Him who lives forever and ever, and cast our crowns before the throne, saying, "You are worthy, our Lord and God" (Revelation 4:11).
Let us be ready, little children!
Writer of the Month: Menes Abdul-Noor from Egypt. A respected leader of the Christian Church in Cairo.
Copyright [C] 1995 Open Doors International. Used by permission.
Click here to sign up for a free monthly newsletter from Open Doors about persecuted Christians.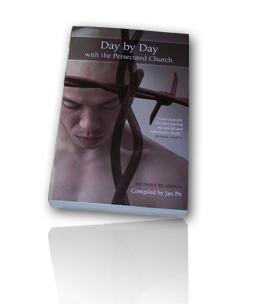 Day by Day with the Persecuted Church
compiled by Jan Pit with a forward by Brother Andrew (paperback, revised 2000)
Compelling wisdom from the pen of actual believers living amidst persecution, you'll be connected to the suffering, courage, and depth of life that exists in the harshest places in the world. Each of these 365 thought-provoking devotions will deepen your understanding of Christian persecution and provoke you to pray for our brothers and sisters with a new found depth.