from Day by Day with the Persecuted Church

"Saul, Saul, why do you persecute me?" "Who are you Lord?" Saul asked. "I am Jesus, whom you are persecuting," he replied. (Acts 9:4-5)
Paul
The first time that we meet Paul is at the execution of Stephen, who was the first Christian martyr. Paul looked after the coats of the men who stoned Stephen. He hated Stephen as well as the rest of the Christians. He intended to do God a service by persecuting them. He had, therefore, discovered in which houses the Christians met and his henchmen would unexpectedly force their way in and drag the Christians off to prison.
Paul was filled with hate against anything that had to do with Christ - until he met Christ for himself and had a radical conversion. Would the Christians from the house-churches - when they prayed for their leaders in prison - have also prayed for the persecutor, Paul? Perhaps Paul met Jesus as an answer to their prayers. We do not know - not yet.
God intervened and changed the persecutor into a preacher.
Someone once said, "If such a gifted man is converted, it is amazing what such a man can do for God."
But an even greater thing is this - it is not what such a man can do for God that is important but what God can do for him. Forgiveness of sins and a new life with and for the Lord. That is what God did for Paul.
There is hope for the persecutors of God's Church. Will you pray for them? Is anything impossible for God?
Copyright [C] 1995 Open Doors International. Used by permission.
Click here to sign up for a free monthly newsletter from Open Doors about persecuted Christians.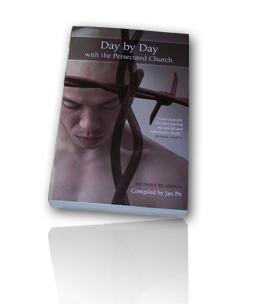 Day by Day with the Persecuted Church
compiled by Jan Pit with a forward by Brother Andrew (paperback, revised 2000)
Compelling wisdom from the pen of actual believers living amidst persecution, you'll be connected to the suffering, courage, and depth of life that exists in the harshest places in the world. Each of these 365 thought-provoking devotions will deepen your understanding of Christian persecution and provoke you to pray for our brothers and sisters with a new found depth.