from Day by Day with the Persecuted Church

The eye is the lamp of the body. If your eyes are good, your whole body will be full of light. (Matthew 6:22)
Joseph Ton
The second way in which Christ delivers us from fear, Joseph Ton likes to call "the mending or renewal of our eyes." In Matthew 6, the Lord speaks about worrying (which is the same as fear of the future). Again and again He says, "Do not worry." Before this, He spoke about two kinds of eyes, good and bad ones. He says that if our eyes are bad, our whole body will be full of darkness. But if our eyes are good, our whole body will be full of light.
The bad eye sees enemies, problems, threats and dangers. Those were the eyes of ten out of twelve spies who returned from a mission to Canaan (Numbers 13). They saw the giants and said, "We are grasshoppers compared to them. It's hopeless."
The good eye also sees the danger and the enemies, for they are part of reality. But the good eye sees more than that - it sees the Almighty God. And this Almighty God is our Father through Jesus Christ.
"Let us fix our eyes on Jesus," Hebrews 12:2 says. The frightened heart cries, "O, my Lord, what shall we do?" Victorious Elisha answers, "Don't be afraid. Those who are with us are more than those who are with them." And Elisha prayed, "O Lord, open his eyes so that he may see" (2 Kings 6:15-17).
"O our God ... we have no power to face this vast army that is attacking us. We do not know what to do, but our eyes are upon you" (2 Chronicles 20:12).
Lord, our God, please give us these spiritual eyes!
Joseph Ton from Romania. Joseph Ton describes a number of spiritual principles of God's faithfulness despite suffering. Edited with permission from the Dutch booklet entitled Lessen in Lijden.
Copyright [C] 1995 Open Doors International. Used by permission.
Click here to sign up for a free monthly newsletter from Open Doors about persecuted Christians.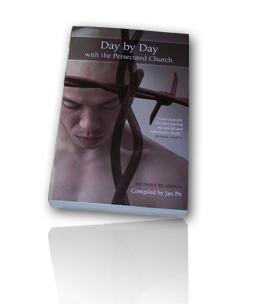 Day by Day with the Persecuted Church
compiled by Jan Pit with a forward by Brother Andrew (paperback, revised 2000)
Compelling wisdom from the pen of actual believers living amidst persecution, you'll be connected to the suffering, courage, and depth of life that exists in the harshest places in the world. Each of these 365 thought-provoking devotions will deepen your understanding of Christian persecution and provoke you to pray for our brothers and sisters with a new found depth.