from Day by Day with the Persecuted Church,

The Lord is my light and my salvation,
whom shall I fear?
The Lord is the stronghold of my life- of whom shall I be afraid?
(Psalm 27:1)
For in the day of trouble,
He will keep me safe in His dwelling;
He will hide me in the shelter of His tabernacle...
(Psalm 27:5)
Open Doors Contact Person
Comments of a Chinese pastor who has spent 22 years in prison for his faith-
"If there's no struggle, there will be no strength.
If there's no cross, there will be no crown.
There is no way we can follow Christ without a cross. Let us cherish it and cling to it."
If a man in the free world would have spoken these words, one could have laughed at such theatrical statements. But now that a Chinese brother speaks from experience - 22 long years of imprisonment, torture, and hard labor - we should listen carefully.
When asked what sustained him in prison he replied: Psalm 27 and the song "The Old Rugged Cross." "Let us cherish it and cling to it." Today and every day.
Copyright [C] 1995 Open Doors International. Used by permission.
Click here to sign up for a free monthly newsletter from Open Doors about persecuted Christians.
---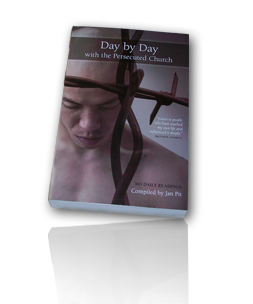 Day by Day with the Persecuted Church
compiled by Jan Pit with a forward by Brother Andrew (paperback, revised 2000)
Compelling wisdom from the pen of actual believers living amidst persecution, you'll be connected to the suffering, courage, and depth of life that exists in the harshest places in the world. Each of these 365 thought-provoking devotions will deepen your understanding of Christian persecution and provoke you to pray for our brothers and sisters with a new found depth.
To order your copy of this devotional, click