from Day by Day with the Persecuted Church

A song of praise to the Lord, the God of Israel.
In the midst of all his suffering and persecution, David knows he is safe under God's protection. The darker the night, the brighter the light. God gives us strength to bear our cross.
David
May all the kings of the earth praise you, O Lord, when they hear the words of your mouth.
May they sing of the ways of the Lord, for the glory of the Lord is great.
Though the Lord is on high, he looks upon the lowly, but the proud he knows from afar.
Though I walk in the midst of trouble, you preserve my life; you stretch out your hand against the anger of my foes, with your right hand you save me.
The Lord will fulfill his purpose for me; your love, O Lord, endures forever - do not abandon the works of your hands.
(Psalm 138:4-8)
Copyright [C] 1995 Open Doors International. Used by permission.
Click here to sign up for a free monthly newsletter from Open Doors about persecuted Christians.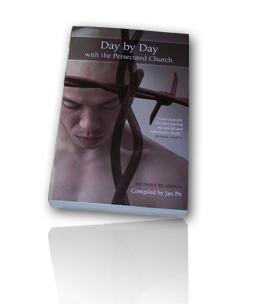 Day by Day with the Persecuted Church
compiled by Jan Pit with a forward by Brother Andrew (paperback, revised 2000)
Compelling wisdom from the pen of actual believers living amidst persecution, you'll be connected to the suffering, courage, and depth of life that exists in the harshest places in the world. Each of these 365 thought-provoking devotions will deepen your understanding of Christian persecution and provoke you to pray for our brothers and sisters with a new found depth.