from Day by Day with the Persecuted Church

I waited patiently for the Lord; he turned to me and heard my cry. (Psalm 40:1)
Jan Pit
One day I visited the cave prisons in Kampala, Uganda, a place of horror where the dictator Idi Amin punished and killed innocent prisoners.
One of the men about to be killed was Joshua, a pastor of a Full Gospel Church in Kampala. Joshua had always preached a message of love and forgiveness. Miracles had taken place in his church. God was at work.
Idi Amin's secret police reported the tremendous growth of the church to the dictator, who in turn ordered the arrest of Pastor Joshua. He was thrown into this cave prison, waiting to be executed. He cried to the Lord, "Lord, I am scared. Help me Lord. No, I am not afraid to die, but I am afraid of the torture that will take place before they kill me." (Many prisoners were not killed by a bullet, but by a sledgehammer.) "Lord, let the first hit be fatal ... please".
A miracle took place in that dark cell. Joshua described it as follows, "All of a sudden a light shone into my dark cell. I heard a voice say, "You are not alone - I am with you - always."
All fear disappeared; I knelt down praising the Lord. I must have sung at the top of my voice, because suddenly the door to my cell opened and two policemen dragged me out. I thought the moment had come to be killed, but I kept on praising my Lord. When the officer saw me and heard me singing, he said to the two policemen, "This man is insane - it is no use killing him. Throw him out." A moment later I was a free man.
May I share with you what I learned?
1. We are never alone - never - never.
2. There is power in praising God.
3. God is always in control.
What more can a man desire?
Copyright [C] 1995 Open Doors International. Used by permission.
Click here to sign up for a free monthly newsletter from Open Doors about persecuted Christians.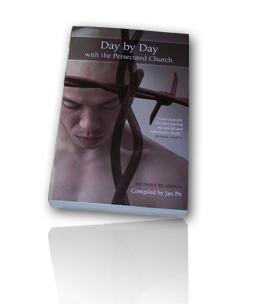 Day by Day with the Persecuted Church
compiled by Jan Pit with a forward by Brother Andrew (paperback, revised 2000)
Compelling wisdom from the pen of actual believers living amidst persecution, you'll be connected to the suffering, courage, and depth of life that exists in the harshest places in the world. Each of these 365 thought-provoking devotions will deepen your understanding of Christian persecution and provoke you to pray for our brothers and sisters with a new found depth.