from Day by Day with the Persecuted Church

Some Bible expositors think this psalm was sung when the Ark was brought back to Israel. Others see in this psalm a type of Christ.
In both views, the Lord is central. Real peace is not the absence of war, but the presence of the Prince of Peace - Christ the Lord.
David
The earth is the Lord's, and everything in it, the world, and all who live in it; 
for he founded it upon the seas and established it upon the waters. 
Who may ascend the hill of the Lord? Who may stand in his holy place? 
He who has clean hands and a pure heart, who does not lift up his soul to an idol or swear by what is false. 
He will receive blessing from the Lord and vindication from God his Savior. 
Such is the generation of those who seek him, who seek your face, O God of Jacob. 
Lift up your heads, O you gates; be lifted up, you ancient doors, that the King of glory may come in. 
Who is this King of glory? The Lord strong and mighty, the Lord mighty in battle. 
(Psalm 24:1-8)
Copyright [C] 1995 Open Doors International. Used by permission.
Click here to sign up for a free monthly newsletter from Open Doors about persecuted Christians.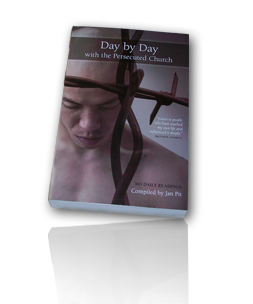 Day by Day with the Persecuted Church
compiled by Jan Pit with a forward by Brother Andrew (paperback, revised 2000)
Compelling wisdom from the pen of actual believers living amidst persecution, you'll be connected to the suffering, courage, and depth of life that exists in the harshest places in the world.  Each of these 365 thought-provoking devotions will deepen your understanding of Christian persecution and provoke you to pray for our brothers and sisters with a new found depth.
 To order your copy of this devotional, click