from Day by Day with the Persecuted Church

I will lie down and sleep in peace, for you alone, O Lord, make me dwell in safety. (Psalm 4:8)
Grace Dube
That night, in June 1991, it was impossible to lie down and sleep in peace. Soweto was in chaos. Fighting, looting, killing, all through the night.
I was alone in my house. The children (all married by now) had visited me that evening, but had already returned to their own houses, elsewhere in Soweto. All of a sudden some bandits came to my house. They banged on the door and shouted, "Come out, we want you to join us in the battle." I crept out of my bed and peeped through the window. I saw all the young men, with sticks in their hands. "Lord, be my shield," I prayed. I confess I trembled.
But the Lord was in control.
All of a sudden I heard the leader of the gang shout to his friends, "Hey, leave that house alone. There is an old woman living there all on her own, her children are married and live elsewhere." When the gang hesitated about leaving, the leader shouted, "I don't want any of you to ever come near this house again." I could not believe what I heard. That man had always been against us, and now this...
"For you alone, O Lord, make me dwell in safety." "The angel of the Lord encamps around those who fear him, and he delivers them" (Psalm 34:7).
A short time later I went back to bed. Not nervous anymore, but, "...in peace I will lie down and sleep" (Psalm 4:8).
The peace of the Lord be with you.
Grace Dube from South Africa. Her husband was stabbed to death. She continues to preach his message of forgiveness.
Copyright [C] 1995 Open Doors International. Used by permission.
Click here to sign up for a free monthly newsletter from Open Doors about persecuted Christians.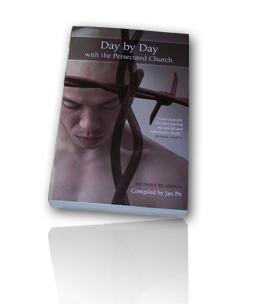 Day by Day with the Persecuted Church
compiled by Jan Pit with a forward by Brother Andrew (paperback, revised 2000)
Compelling wisdom from the pen of actual believers living amidst persecution, you'll be connected to the suffering, courage, and depth of life that exists in the harshest places in the world. Each of these 365 thought-provoking devotions will deepen your understanding of Christian persecution and provoke you to pray for our brothers and sisters with a new found depth.