from Day by Day with the Persecuted Church

Now give me this hill country that the Lord promised me that day. You yourself heard then that the Anakites were there and their cities were large and fortified, but, the Lord helping me, I will drive them out just as he said.
Caleb
In claiming his inheritance Caleb, willingly and voluntarily, asked for the most difficult part of the country, the mountains where the giants lived.
Those were the giants who scared the other spies. They were the very reason for unbelief among God's people resulting in forty years of isolation in the desert.
Caleb could have asked for an easier part of the country. At the retiring age of eighty-five he took upon him the greatest challenge of his life. Caleb never thought in terms of fences or walled cities, the higher the mountain the greater the challenge to conquer it, the stronger the enemies, the greater the opportunity to trust God to defeat them.
All the other tribes received an easier part of the country, but they could not drive out the people from their territory. Only Caleb could do that. He drove out the giants. His faith resulted in conquering power. No challenge too great, no problem too difficult. His secret, faith in God. Not a great faith in God, but simply faith in a great God. Have faith for "your mountain". It can be done.
Copyright [C] 1995 Open Doors International. Used by permission.
Copyright [C] 1995 Open Doors International. Used by permission.
Click here to sign up for a free monthly newsletter from Open Doors about persecuted Christians.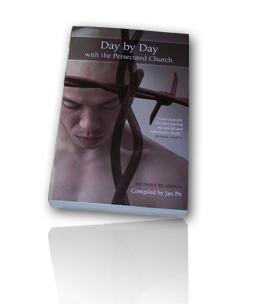 Day by Day with the Persecuted Church
compiled by Jan Pit with a forward by Brother Andrew (paperback, revised 2000)
Compelling wisdom from the pen of actual believers living amidst persecution, you'll be connected to the suffering, courage, and depth of life that exists in the harshest places in the world. Each of these 365 thought-provoking devotions will deepen your understanding of Christian persecution and provoke you to pray for our brothers and sisters with a new found depth.