from Day by Day with the Persecuted Church

This is my Gospel, for which I am suffering even to the point of being chained like a criminal. But God's Word is not chained. (2 Timothy 2:8-9)
Sister Maria
In all the time that I was imprisoned I never felt alone. When loneliness threatened, I started to talk to my Lord. It was within those thick walls, cutting me off from my contact with everyone else that I experienced, more than ever before, that nothing could cut me off from God.
I also realized that God must have allowed my imprisonment for a purpose - to bring other people the message of salvation in Christ Jesus, those who otherwise might never have heard it.
Instead of looking at my difficult circumstances, God lifted me above them. His Spirit filled my whole being, enabling me to testify to the other prisoners. Within one year twenty five of them accepted Christ as their Savior. "God's Word is not chained". It even sets our spirit free in times of bondage and imprisonment.
A criminal in the eyes of men, an ambassador in the eyes of God.
"Open our eyes, Lord, that we may see."
Sister Maria from Mozambique. She had been imprisoned under severe circumstances. Sister Maria uses a pseudonym.
Copyright [C] 1995 Open Doors International. Used by permission.
Click here to sign up for a free monthly newsletter from Open Doors about persecuted Christians.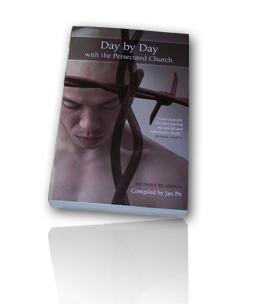 Day by Day with the Persecuted Church
compiled by Jan Pit with a forward by Brother Andrew (paperback, revised 2000)
Compelling wisdom from the pen of actual believers living amidst persecution, you'll be connected to the suffering, courage, and depth of life that exists in the harshest places in the world. Each of these 365 thought-provoking devotions will deepen your understanding of Christian persecution and provoke you to pray for our brothers and sisters with a new found depth.