from Day by Day with the Persecuted Church

If you make the Most High your dwelling ... then no harm will befall you, no disaster will come near your tent.
(Psalm 91:9-10)
Sister Maria
If we fear persecution and its consequences, it simply means that we do not believe He is strong enough to see us through our times of trial.
This marvelous psalm could have been written especially for me. "Surely, he will save me from the deadly pestilence" (v.3).
Under those terrible conditions in prison I became desperately ill in my pregnant condition. (I was four months pregnant when I was arrested.) Two months before the baby was due to be born I thought I was going to die, as would my baby. But God instilled sympathy into a doctor's heart to have mercy on me. He sent me to a hospital where the baby was born. Later, when my baby became ill, he was taken away from me. My husband was allowed to take care of him for the next seven months. Thank God, neither myself, nor my child, suffer from any ill-effects today.
"You will not fear the terror by night, nor the arrow that flies by day" (v.5).
When I was interrogated, they tried to force me to deny my Lord. A loaded gun was pointed at my chest, with my interrogator threatening to shoot me. I was shaking, but I just could not deny my Lord. I was weak, but He was strong.
"He will cover you with his feathers, and under his wings you will find refuge" (v.4).
We never need to fear, whatever the circumstances - for He is with us. The Psalmist speaks from experience - so do I - and so may you.
Sister Maria from Mozambique. She had been imprisoned under severe circumstances. Sister Maria uses a pseudonym.
Copyright [C] 1995 Open Doors International. Used by permission.
Click here to sign up for a free monthly newsletter from Open Doors about persecuted Christians.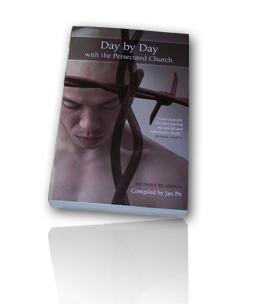 Day by Day with the Persecuted Church
compiled by Jan Pit with a forward by Brother Andrew (paperback, revised 2000)
Compelling wisdom from the pen of actual believers living amidst persecution, you'll be connected to the suffering, courage, and depth of life that exists in the harshest places in the world. Each of these 365 thought-provoking devotions will deepen your understanding of Christian persecution and provoke you to pray for our brothers and sisters with a new found depth.