from Day by Day with the Persecuted Church

So Naomi returned from Moab accompanied by Ruth the Moabitess, her daughter-in-law, arriving in Bethlehem as the barley harvest was beginning. (Ruth 1:22)
Naomi
The book of Ruth tells the story of three women: Naomi, Orpah and Ruth.
All three had gone through a lot of suffering. Undoubtedly Naomi suffered the most. She had lost her husband and two sons while living in a foreign country. No wonder she changed her name from Naomi (meaning pleasant) to Mara (meaning bitter). Indeed all pleasure had disappeared from her life. When you lose all your loved ones, bitterness can so easily enter one's heart. Yet bitterness is often the result of self-pity. God was blamed. "The Almighty has made my life very bitter."
Be careful, Naomi. Don't blame God for your own mistakes. She and her husband had voluntarily left Israel. It had been their choice to go and live in Moab, while Moab was under a curse from God (Deuteronomy 23:3). What is more, Elimelech and Naomi allowed their sons to marry Moabite women. That too was not according to God's command (Deuteronomy 7:3-4). Instead of blaming God, she should have acknowledged that she had brought much bitterness upon herself. Yet God does not reject Naomi. He fulfills His plan and puts color back into the life of Naomi. It started when she returned to Bethlehem. The famine was over and the first harvest was being gathered. Gradually her self-pity and bitterness disappeared.
Whosoever returns to the Lord, will always end up in Bethlehem: the house of bread.
Copyright [C] 1995 Open Doors International. Used by permission.
Click here to sign up for a free monthly newsletter from Open Doors about persecuted Christians.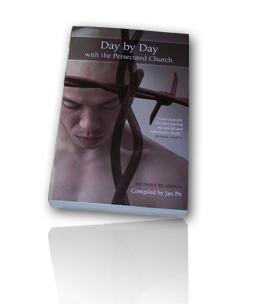 Day by Day with the Persecuted Church
compiled by Jan Pit with a forward by Brother Andrew (paperback, revised 2000)
Compelling wisdom from the pen of actual believers living amidst persecution, you'll be connected to the suffering, courage, and depth of life that exists in the harshest places in the world. Each of these 365 thought-provoking devotions will deepen your understanding of Christian persecution and provoke you to pray for our brothers and sisters with a new found depth.