from Day by Day with the Persecuted Church

The One enthroned in heaven laughs. (Psalm 2:4)
Sister Chen
The kings of the world who oppose the Lord plot in vain (Psalm 2:1). The Lord laughs at them (Psalm 2:4).
When Jesus was born in Bethlehem, King Herod wanted to kill Him, but in vain. The priests also tried to kill Him. It seemed as though they succeeded, when Christ was crucified and buried. But Christ rose from the dead.
During the time of the apostles, the Church in Jerusalem experienced tremendous persecution in Jerusalem. The believers were scattered all over the place. The enemy thought he had immobilized the Church - on the contrary. "Those who had been scattered preached the word wherever they went" (Acts 8:4). That's how the Gospel was spread to the Gentiles.
People are still plotting against God. They want to get rid of the Church. They persecute believers, burn their Bibles, arrest their pastors, and close their churches. All - in vain.
The Lord is building (and keeping) His Church and the gates of hell shall not prevail against it.
He who sits in heaven laughs. Let's join our great, almighty God in holy laughter. In full confidence that He who began a good work in you will carry it on to completion, in your life today, despite all circumstances.
Sister Chen is from China and is a pillar of God's house in this vast land. Due to security reasons, we cannot introduce her further to you, but her testimony speaks for itself.
Copyright [C] 1995 Open Doors International. Used by permission.
Click here to sign up for a free monthly newsletter from Open Doors about persecuted Christians.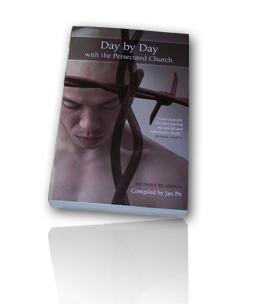 Day by Day with the Persecuted Church
compiled by Jan Pit with a forward by Brother Andrew (paperback, revised 2000)
Compelling wisdom from the pen of actual believers living amidst persecution, you'll be connected to the suffering, courage, and depth of life that exists in the harshest places in the world. Each of these 365 thought-provoking devotions will deepen your understanding of Christian persecution and provoke you to pray for our brothers and sisters with a new found depth.