from Day by Day with the Persecuted Church

I am God Almighty; walk before Me...
(Genesis 17:1)
Ferenc Visky
God did not introduce Himself to Abraham like this without reason, "I am God Almighty..." God always makes Himself clear. He calls Himself the Almighty because Abraham did not know yet that He was omnipotent. If he had known, he wouldn't have taken Hagar for his wife. He would have awaited God's plan, the birth of Isaac and it would have saved himself and others a lot of misery. Abraham was wrong about God when he thought that He would not have the power to give Sara a baby in her hopeless situation.
And Abraham was not the only one. It happens to everyone who doubts God's omnipotence and His salvation. And it is a sin.
I believe that God created man out of the dust of the earth and that the visible originated from the invisible, but when it became clear that He was able to maintain me and my family from nothing, I was dumbfounded. God proved to me that He was also the Almighty during my deportation.
He also said to Abraham, "Walk before Me and be blameless." I can even walk in impassable ways when I am certain about God's omnipotence and be blameless, too, that is to say that I can completely rely on God, Who is perfect, and then I can walk straight towards my goal.
Don't be afraid to lean on God's omnipotence completely. It does not mean looking on passively. It means going on. He who walks with God is carried by Him and crowned with His salvation. He did so with us. Wouldn't He be able to do so for you? "I am God Almighty"' Do you know this God?
Ferenc Visky is from Romania. He and his wife write in a moving way about their life with the Lord despite heavy persecution.
Copyright [C] 1995 Open Doors International. Used by permission.
Click here to sign up for a free monthly newsletter from Open Doors about persecuted Christians.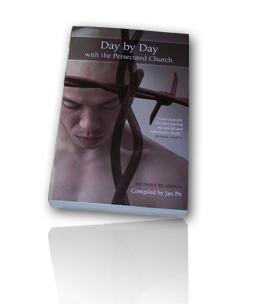 Day by Day with the Persecuted Church
compiled by Jan Pit with a forward by Brother Andrew (paperback, revised 2000)
Compelling wisdom from the pen of actual believers living amidst persecution, you'll be connected to the suffering, courage, and depth of life that exists in the harshest places in the world. Each of these 365 thought-provoking devotions will deepen your understanding of Christian persecution and provoke you to pray for our brothers and sisters with a new found depth.