from Day by Day with the Persecuted Church

The greatest amongst you will be your servant. (Matthew 23:11)
Pastor Zhu's wife
This is not an easy command. Normally, people like to be served instead of serving others.
Jesus Himself set the example, "Just as the Son of Man did not come to be served, but to serve" (Matthew 20:28). The Disciples of Christ should follow in His footsteps.
During the 1950s I was studying at Beijing University. I loved to attend the meetings of the Christian Students' Association. This association did not have full time staff members - no, those who served the Christian students were fellow Christians. Not because they wanted to be great or important, but because they were important, because they served other people. When the government clamped down on the Church they arrested many of our "brothers and sisters." We could not meet openly anymore. We had to meet secretly - in homes. But we had learned an important lesson from our "brothers and sisters" - how to serve others. That's how we continued - serving one another. You want to be a blessing to other people? Then serve them maybe in a small way, a smile, a letter, a visit...
"Let your light shine before men, that they may see your good deeds and praise your Father in heaven" (Matthew 5:16).
Sister Zhu from China is a pillar of God's house in this vast land. Due to security reasons, we cannot introduce her further to you, but her testimony speaks for itself.
Copyright [C] 1995 Open Doors International. Used by permission.
Click here to sign up for a free monthly newsletter from Open Doors about persecuted Christians.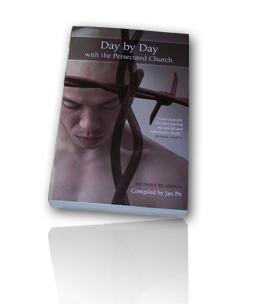 Day by Day with the Persecuted Church
compiled by Jan Pit with a forward by Brother Andrew (paperback, revised 2000)
Compelling wisdom from the pen of actual believers living amidst persecution, you'll be connected to the suffering, courage, and depth of life that exists in the harshest places in the world. Each of these 365 thought-provoking devotions will deepen your understanding of Christian persecution and provoke you to pray for our brothers and sisters with a new found depth.