from Day by Day with the Persecuted Church

...he was taken up before their very eyes...
(Acts 1:9)
...and seated us with him in the heavenly realms in Christ Jesus.
(Ephesians 2:6)
Ferenc Visky
A few years ago, at the time of my enforced emeritus status, I was summoned by the Securitate© once more. I had "sinned" against the state again. One of the interrogations happened to take place on Ascension Day. In the course of the cross-examination, this Christian holiday came up. The one who interrogated me had no idea as to the meaning of this day. He thought it was some kind of ceremonial hocus-pocus.
Unexpectedly, he was listening to what I said about this, "Christ went to heaven to raise us above all misery and suffering that happens to us on earth and also to give us victory. He never promised to spare us suffering, fear, disease and death, but that He would raise us above it. These things do not control us, but through Christ, we control them. I am in the terrifying Securitate© building now, but I am here with Jesus and He is more powerful than anyone. It not only makes the interrogation bearable, but even a blessing. I live in a heavenly perspective here and anywhere. How small the Himalayas are when you look at it from above..." (a Chinese saying). My interrogator treated me humanely and tried to save me. I experienced a bit of heaven at the Securitate©, in the presence of Jesus.
Do not deny your troubles, but allow Jesus to raise you above them. You can have a glorious life while you are still on earth.
Ferenc Visky is from Romania. He and his wife write in a moving way about their life with the Lord despite heavy persecution.
Copyright [C] 1995 Open Doors International. Used by permission.
Click here to sign up for a free monthly newsletter from Open Doors about persecuted Christians.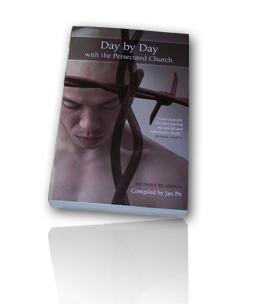 Day by Day with the Persecuted Church
compiled by Jan Pit with a forward by Brother Andrew (paperback, revised 2000)
Compelling wisdom from the pen of actual believers living amidst persecution, you'll be connected to the suffering, courage, and depth of life that exists in the harshest places in the world. Each of these 365 thought-provoking devotions will deepen your understanding of Christian persecution and provoke you to pray for our brothers and sisters with a new found depth.