from Day by Day with the Persecuted Church

Why are you downcast, O my soul? Why so disturbed within me? Put your hope in God. (Psalm 42:11)
Andrés Noriega
My wife and I were very confused when our third child was born - a baby without a hope of staying alive. Each day he lived was an agony.
We felt our world had been turned upside down. We were confused, upset and full of questions. The more so because I experienced a great revival in my church. People were saved, delivered from all kinds of addictions, healed from various kinds of diseases. The people in my church were glorifying God. So did I... until our child was born. "Why Lord? Why?" we cried.
The next eighteen days were like one long nightmare. We cried, we prayed, we fainted, we argued with God until we were left without strength. It was then that we realized that we were selfish, proud and stubborn. I thought I heard the voice of the mockers saying, "Doctor, heal yourself." So I said, "Lord, your will be done. If you decide to take my child it will not change my obedience to you." That very day a miracle happened ... the peace of God entered our hearts. We had won the battle.
PS : Late that night our child came back to life and has been healthy ever since. What a bonus.
What a secret. Put your hope in God and surrender to His love and sovereignty - even when "the miracle" does not take place.
Andrés Noriega, from Cuba, shares about his life with the Lord. Despite the battle, his meditations witness to victory and faith. He writes under a pseudonym.
Copyright [C] 1995 Open Doors International. Used by permission.
Click here to sign up for a free monthly newsletter from Open Doors about persecuted Christians.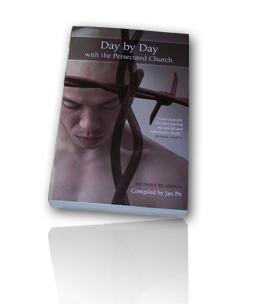 Day by Day with the Persecuted Church
compiled by Jan Pit with a forward by Brother Andrew (paperback, revised 2000)
Compelling wisdom from the pen of actual believers living amidst persecution, you'll be connected to the suffering, courage, and depth of life that exists in the harshest places in the world. Each of these 365 thought-provoking devotions will deepen your understanding of Christian persecution and provoke you to pray for our brothers and sisters with a new found depth.