from Day by Day with the Persecuted Church

Be careful, then, how you live, not as unwise but as wise, making the most of every opportunity, because the days are evil. Therefore do not be foolish, but understand what the Lord's will is. (Ephesians 5:15-17)
Antonio Garrido
One day a brother came to our home to learn how we reproduced cassette tapes from Bible studies. We not only told him how we did it, but also shared with him what a blessing this ministry had been to other Christians and non-Christians.
It had resulted in great encouragement for the Christians while many unbelievers accepted the Lord as well. While we shared these blessings, our brother started to weep.
He then told us, "I am so embarrassed. I received some equipment a year ago to do a similar job, but I have not used it at all yet. Now that I see how you use your old equipment, and what the results have been, I feel so guilty for not using God's provision. It could have saved so many people; it could have encouraged so many fellow believers; why did I not use God's gift?"
I sat down next to him and said, "You feel guilty - and maybe you are - but don't stop there. Make a fresh start and use what God has given to you."
Yes, we must take advantage of the time and gifts we have. Do not leave for tomorrow the things you can do today. "Make the most of the time."
Antonio Garrido, from Cuba, shares about his life with the Lord. Despite the battle, his meditations witness to victory and faith. He writes under a pseudonym.
Copyright [C] 1995 Open Doors International. Used by permission.
Click here to sign up for a free monthly newsletter from Open Doors about persecuted Christians.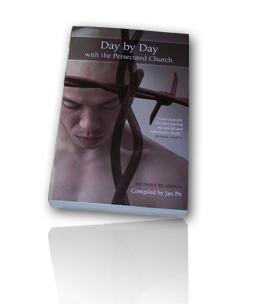 Day by Day with the Persecuted Church
compiled by Jan Pit with a forward by Brother Andrew (paperback, revised 2000)
Compelling wisdom from the pen of actual believers living amidst persecution, you'll be connected to the suffering, courage, and depth of life that exists in the harshest places in the world. Each of these 365 thought-provoking devotions will deepen your understanding of Christian persecution and provoke you to pray for our brothers and sisters with a new found depth.