from Day by Day with the Persecuted Church

The subject of this Psalm, like in many other Psalms of David, is trusting the Lord when life is difficult.
Every time David's life is in danger, he trusts in his God, always thanking the Lord for His help in the past. That encourages him to also trust God for the present. Is He not the same, yesterday and today?
David
I waited patiently for the Lord; he turned to me and heard my cry.
He lifted me out of the slimy pit, out of the mud and mire; he set my feet on a rock and gave me a firm place to stand.
He put a new song in my mouth, a hymn of praise to our God. Many will see and fear and put their trust in the Lord.
But may all who seek you rejoice and be glad in you; may those who love your salvation always say, "The Lord be exalted!"
Yet I am poor and needy; may the Lord think of me. You are my help and my deliverer; O my God, do not delay.
(Psalm 40:1-3,16-17)
Copyright [C] 1995 Open Doors International. Used by permission.
Click here to sign up for a free monthly newsletter from Open Doors about persecuted Christians.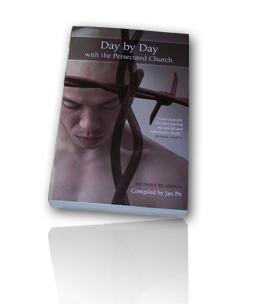 Day by Day with the Persecuted Church
compiled by Jan Pit with a forward by Brother Andrew (paperback, revised 2000)
Compelling wisdom from the pen of actual believers living amidst persecution, you'll be connected to the suffering, courage, and depth of life that exists in the harshest places in the world. Each of these 365 thought-provoking devotions will deepen your understanding of Christian persecution and provoke you to pray for our brothers and sisters with a new found depth.